Online-Therapy.com Service Review
Online-Therapy.com Service Review
Online counseling services are on their peak of popularity. Online-Therapy.com is an accessible and convenient platform that enables users to get expert mental assistance without leaving their houses. You will be able to cope with any emotional or mental health challenges, as there are plenty of qualified therapists on board with various areas of expertise. Want to learn more? Read this Online Therapy site review.
What Is Online Therapy com? | Online-Therapy.com review
The Online-Therapy service was established in 2009 to enable people to fight their emotional issues while getting qualified counseling via the Internet. Licensed and experienced therapists are ready to provide effective psychological tools and treatment to improve their mental condition and overcome problems.

It's possible to find additional useful tools on their online website to let clients have a healthier and more fulfilling life. In addition, it is the most convenient way to receive mental healing. There is no need to waste time commuting to a psychologist's office, as you can get a live chat while laying on a couch at home. Moreover, it's worth noting that online therapy is more affordable than regular in-person sessions.
General Online Therapy Site Review
Before you start exploring the main information about Online-Therapy, look at the list of pros & cons. It will give you a better understanding of the online platform, so you can evaluate what's waiting for you if you opt for their assistance.
Pros
Cons

Clients can use it from anywhere;
Convenient way to schedule chats;
Licensed and certified specialists;
Assignments to advance the progress;
Yoga and meditation tips;
Different affordable pricing options to choose from;
No-charge plan available instead of the free trial option.

Counselors work during workdays only (a standard 8-hour working day);
No mobile application;
All users have to reach the age of 18 to use the online platform;
Counselors are not allowed to prescribe medications;
No video or phone conversation available.

Sign-Up Process
The whole sign-up process is user-friendly and straightforward. You have to choose the issue you want to treat. It's important, so you should indicate all mental health challenges you are facing to make the mental and emotional healing process more effective.
After this, you will be required to fill in some basic contact information. It's worth noting that you can always stay anonymous. To stay completely confidential, you can come up with a nickname and use it. Then, you have to choose a pricing option and complete the payment.
Once you are done with these steps, a specialist with relevant expertise, skills, and experience will be assigned to you automatically. If you are not fully satisfied with a counselor assigned, you can always switch to another therapist. You can do this by directly contacting the customer support team.
Service Costs
The cost of online healing at Online-Therapy is much lower than for in-person sessions. There are three different plans to choose from. Everyone will find the most affordable price, choose the relevant one, and start the healing process.
The Basic ($39.95/week) gives you a chance to communicate with a specialist via messages and get replies during working hours. Also, you can use reading material sections, assignments and tasks for your improvement.
The Standard ($59.95/week) gives you everything offered in a basic plan with one live chat session per week.
The Premium ($79.95/week) gives you all tools, reading materials, and home tasks available. You can have 2 live conversations per week and get much faster replies on your regular messages.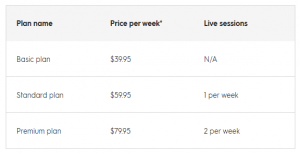 Bear in mind that the platform doesn't offer any promo code or free trial. Instead, you will be able to choose a free subscription option that gives you access to a limited number of basic tools and services. It will let you easily decide whether you want to stick with the website or keep searching for another counseling platform.
Also, there is a two-week money-back guarantee. Feel free to choose any plan you like. If you are not satisfied with the services you get, the platform will pay all your money back within the first two weeks from the beginning of your subscription. You can pay with a credit or debit card, as well as with your PayPal account. The website uses a secure payment gateway. So the process will be safe.
Convenience of Use
The main website Online-Therapy has a very simple and intuitive interface. It works perfectly in the most popular web browsers, no matter what operating system you have. There is no need to download any specific or additional software. You won't have any trouble navigating pages and finding the information you are interested in.
Even a person with minimal computer skills will be able to sign up, complete payment, and have a session with a specialist. There is no mobile application, but the website has a mobile version you can use on your tablet or smartphone. It enables you to contact your psychologist online, even on the go, no matter where you are.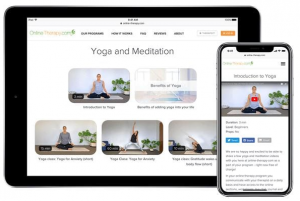 The main thing to mention is that you can find yoga and meditation video classes. It will be beneficial to try it out along with regular therapy to get your peace of mind back, become calmer, and bring harmony to your emotional world.
You will get access to the variety of classes, so feel free to get most of it. It will be possible to feel some positive improvements shortly. We recommend you to explore this option and try it out to see if it works for you.
Another great feature available for online therapy clients is a daily journal that you can keep online. You can share all your thoughts as in a regular diary and be sure that no one can access it but you. Type your mood for the day, changes in behavior, feelings, any positive improvements you experience after chats, and everything you feel like sharing. It will help you become more aware of yourself.
Moreover, each user can access plenty of reading materials to find out more about their mental state. Users can use convenient worksheets to complete tasks from experts and assignments based on the reading material. A counselor will have access to all your answers to check it out and provide relevant advice to advance the mental healing process.
How to Communicate With an Expert | Online-Therapy.com review
The main drawback of this platform is the absence of phone or video counseling sessions. The only two ways to communicate with a therapist are live conversations and messages.
Live chat is a real-time exchange of text messages with a professional. You can tell everything that bothers you and get an instant reply with relevant and well-working advice to try out. The conversation lasts half an hour, and it happens only during business hours on workdays. You won't be able to contact the therapist on weekends, so you will be required to wait.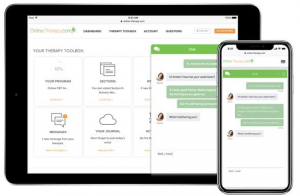 Another way to connect with a therapist is to send messages similar to emails. You can send a message you want at any time. However, keep in mind that you might wait for a reply within the next 24 hours. Usually, it takes less, but you have to be ready to wait. Our advice will be to write compelling messages to describe everything you want to share to save your time and let an expert give you meaningful advice and effective support.
Areas of Expertise | Online-Therapy.com review
You have an opportunity to turn for expert Online-Therapy assistance and receive treatment of a wide range of mental health issues. These are only a few problems that experienced psychologists work with:
Variety of addictions;
Anger management issues;
Phobias;
Depression and anxiety;
Bipolar and obsessive-compulsive disorders;
Sleeping disorders;
Panic attacks;
Public speaking anxiety;
Weight management issues;
Eating disorders;
Social anxiety disorder.
Certified and qualified psychologists have years of experience and can assist people in coping with plenty of issues. However, keep in mind that this platform is not allowed to prescribe any medication. If you want to combine counseling with medication, you should seek a legal psychiatrist to get the prescription you might need. Also, be precise while explaining everything that bothers you, so it's easier to define what the therapist assigns.
Therapists Skills | Online-Therapy.com review
The platform has hired only the best industry professionals. All employees at Online-Therapy.com are qualified and experienced enough to provide top-notch counseling and help people overcome their mental challenges. Each specialist has a relevant education (a bachelor's, master's degree, or Ph.D.), licensure, and certification.
They go through a thorough screening to make sure only the best applicants get hired. Also, they all possess plenty of professional experience in different areas of expertise. If you are not fully comfortable communicating with a counselor assigned, you can always switch experts in your account or ask the customer support team.
You should certainly check out counselor reviews available on the Internet, as well as on the official website. It's obligatory to see what other people say about the service and their emotional healing progress. It will help you evaluate the platform and make a well-informed decision. Since you pay money for a subscription, you have to be certain that's what you need.

Clients' Confidentiality | Online-Therapy.com review
Clients' confidentiality and privacy are always the main priority. You can be sure that all your personal data and conversations with counselors are secure and highly protected. A specialist you work with always comply with a health information patient privacy act, and everything you share with them stays only with them.
All info available on the Online-Therapy is encrypted, so it's completely safe from leakage and any potential malicious attacks. As mentioned before, you don't have to tell your real name. If you are concerned about your privacy, you can always stay anonymous. It's paramount to stay as frank and open with a counselor as possible.
Therefore, you can feel free to share all your deepest thoughts and the most intimate problems. It will stay confidential and, at the same time, will let a professional provide you with the most personalized and effective treatment to assist you in getting back on track.
Final Words – Online-Therapy.com review
If you are overwhelmed by some turbulent life events and want to overcome mental problems, then don't hesitate to seek qualified support. OnlineTherapy is one of the plenty of options available right now. We recommend you carefully check out how to work their services, pricing plans, and users' reviews. Only then can you make a final decision and start your healing. Keep in mind that you can always switch websites if you believe the therapy can be more effective.
Best Online Therapy Services: