Timewith Review: Is This Service A Good Fit For You?
Setting out to find a therapist can be an exhausting process. With so many platforms to choose from, each with dozens of benefits, you might not know right away which one is the best fit. It's why we've conducted this unbiased review of Timewith—an online counseling service based in the UK. 
About Timewith Service
Timewith is on a mission to make finding the right therapist "simple and pain-free". The founders of this platform, Markos Tsirekas and Andreas Williams are technologists and marketers who've had their life changed by therapy. 
They've brought together a team of like-minded individuals to revolutionize how people connect with therapists. They promise to combine expertise, technology, and design to create a transparent, accessible, and easy-to-navigate platform.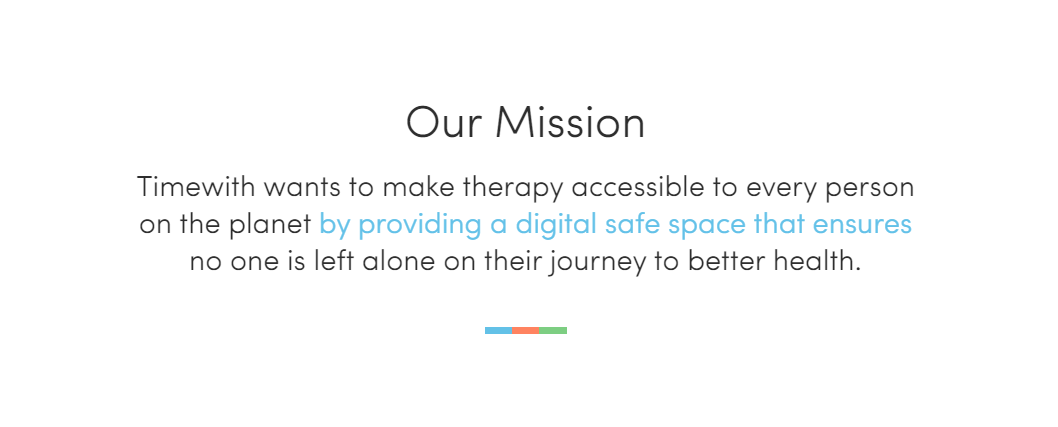 Our review finds that Timewith therapy delivers on most fronts but needs to improve on a few:
Pros
✅ Free introductory phone call with your therapist before your first session
✅ You can choose your therapist
✅ Free change of therapist
✅ Billing 24 hours after the session 
Cons
💥 Not all therapists offer telephone sessions
💥 Only 207 therapists are available 
How Timewith Works
Timewith allows you to find a therapist near you for in-person sessions. It also offers online and phone sessions. To use the platform, one must go through several steps as follows. 

Answer a Few Questions about Yourself
Signing up for therapy on Timewith online starts by answering a few questions presented by a care coordinator. 
You'll provide personal details, including your:
Name 

Age

Mental health

condition that you need help with

Location (postal code)

Email address to receive matching therapists and regular updates

Mobile number

Details about your situation that can help them select the best therapists
A verification code is sent via phone or email, which allows you to log in to your account. 
Browse Therapists Profiles
Based on the information you gave while signing up, you'll get a list of up to 10 therapists near you. Timewith is for online and in-person counseling, so you can choose a therapist with this in mind. You can chat with your preferred therapist to enquire more about their services.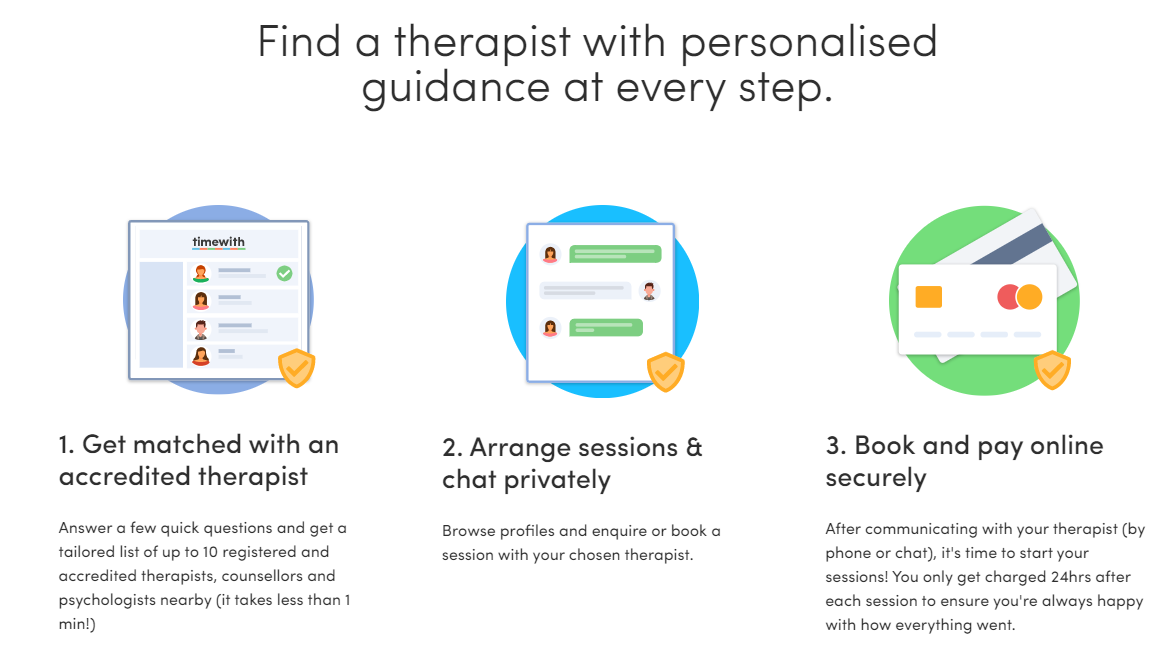 There are no fees for the introductory phone call. It is a chance for you to learn more about your therapist and how they work. 
Book and Pay for Your Session
After communication with your therapist (via phone or chat), you can book your sessions. Timewith bills you 24 hours after each session to ensure that you're satisfied before paying. Following your session, you'll receive an email confirming that all went well, after which your card is charged. 
Find the Right Fit
If your first choice of therapist is not a good match, you're allowed to try another at no extra cost. Because you're yet to commit to the service, you've got nothing to lose by trying more than one counselor to find a good fit. 
Timewith Mental Health Providers 
The Timewith platform has 500+ service providers who have various qualifications. While browsing profiles, you'll notice some letters after the therapists' names. These letters indicate various accrediting organizations in the UK. 
For therapists to be accredited by these organizations, they must qualify to a high standard and adhere to a professional code of ethics. All therapists on the platform are registered to at least one of the following bodies:
Counseling and Psychotherapy in Scotland (COSCA) — a national, professional organization representing counselors and psychotherapists in Scotland

The Association of Christian Counselors (ACC) — a Christian UK-wide counseling organization holding an Accredited Register with the Professional Standards Authority

The British Association for Behavioral and Cognitive Psychotherapies (BABCP) — a multi-disciplinary accrediting body for therapists involved in the practice and theory of behavioral and cognitive psychotherapy

The British Association for Counseling and Psychotherapy (BACP) — the largest and most recognized accrediting body across the UK

The British Psychoanalytic Council (BPC) — a professional association and voluntary regulator of the psychoanalytic psychotherapy profession

The British Psychological Society (BPS) — a representative body for psychologists and psychology in the UK.

The Complementary and Natural Healthcare Council (CNHC) — the voluntary regulator for complementary healthcare practitioners in the UK

The Health and Care Professions Council (HCPC) — a UK-wide health regulator

The Human Givens Institute (HGI) — a membership organization accredited in the UK by the Professional Standards Authority for Health and Social Care (PSA).

The National Counseling Society (NCS) — a leading professional body representing hypnotherapists and counselors

The UK Council for Psychotherapy (UKCP) — a professional body of clinical psychotherapists and psychotherapeutic counselors.
Mental Health Issues Treated By Timewith
You can find a therapist on Timewith if you're dealing with:
Anxiety

Depression

Stress

Post-Traumatic Stress Disorder (PTSD)

Bereavement

Eating disorders

Addiction

Anger management

Obsessive-compulsive disorder (OCD)

Relationship issues

Sexuality
The counselors and psychotherapists on the platform are skilled at using various techniques to treat mental health issues. Some of the approaches they use include:
Mindfulness-Based Therapies
Mindfulness teaches how to be present at the moment and find greater enjoyment. This approach to therapy can help you gain clarity around thoughts and emotions without getting caught up in them. 
Psychoanalytic and Psychodynamic Therapies
These types of therapies explore the deeper layers of your personality. They are long-term approaches that look deep into your past t explore trauma and other factors that influence who you are today. They help overcome PTSD, anxiety, depression, and other mental health conditions. 
Cognitive-Behavioral Therapy
CBT makes you aware of negative thoughts and behaviors and helps you change them. Rather than focus on your past, this approach focuses on solving present issues. It encompasses several other types of therapy, including acceptance and commitment therapy (ACT). 
Arts Therapy
Art therapy uses art, drama, and music as an outlet for expression. Allowing you to get creative in a safe space is a technique your therapist would use to help you work out complex emotions. It is an indirect way of self-expression, and it works for treating various mental health issues.
Humanistic Therapies
Humanistic therapies promote individuality and free will. They encourage self-exploration through role-play and changing your worldview. They include Gestalt therapy, solution-focused brief therapy, person-centered therapy, and more.  
Integrative Therapy 
Everyone is unique, and this approach to therapy tailors sessions to the individual. It involves using multiple strategies chosen by the counselor based on what they think is best for you. Therefore, it can treat a variety of conditions. 
Interpersonal Therapy
Interpersonal therapy focuses on strengthening social skills and relationships. It reviews your communication patterns to improve the way you relate to others. 
Psychosexual Therapy
Psychosexual therapy is centered on resolving mental and emotional challenges that are affecting your sex life. This approach can be used for a couple or individual therapy sessions. 
Group Therapy
Group therapy involves counselors working with a group of people at the same time. In such sessions, each person in the group shares their reasons for seeking treatment and updates everyone on their progress. 
How Much Do
Timewith Services
Cost?
Timewith is a pay-as-you-go service, meaning you don't have to subscribe to it. Each session is paid for separately, 24 hours after it ends. When you sign up for counseling and give your credit card information, you'll be charged automatically after each session.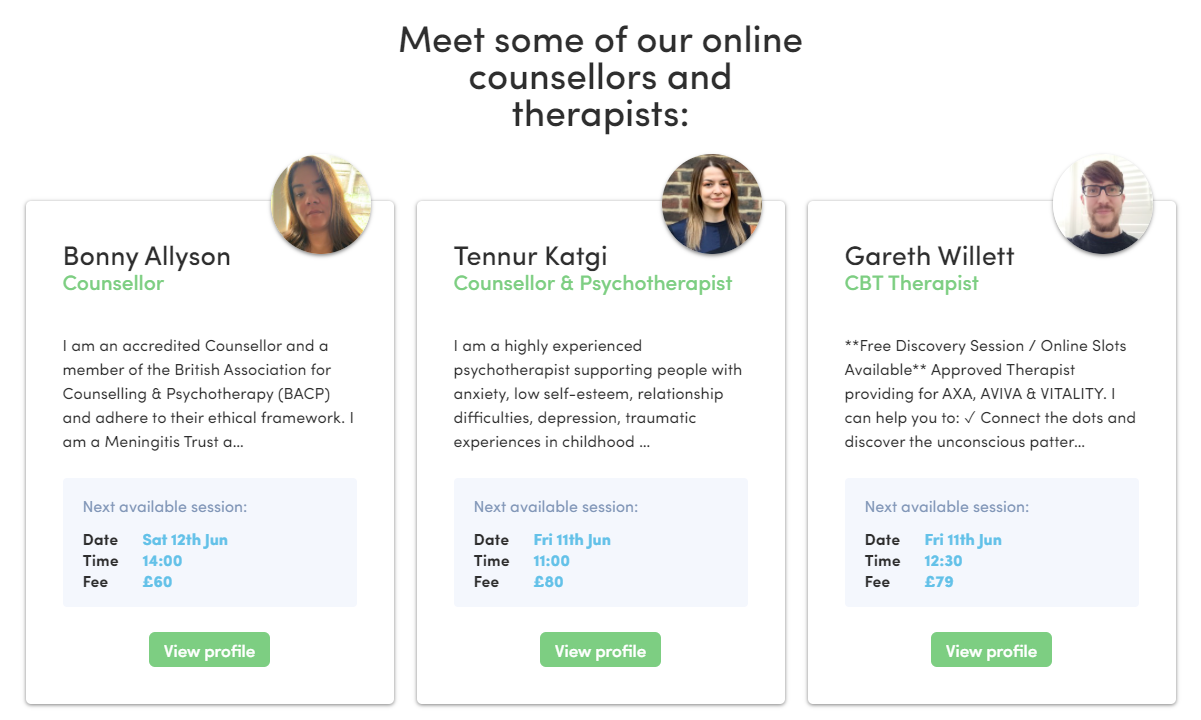 The cost of counseling on the Timewith website varies depending on your condition and the professional you need to see. The average fee is £80, but exact pricing is based on:
Therapy Approaches
Person-centered therapy – £89.94

Integrative therapy – £91.20

CBT – £64.92
Professional Titles
Counselor & Psychotherapist – £58.29

Counselor – £53.54

Psychotherapist – £192.27
User Experience
Timewith provides a professional website that's easy to use for choosing, contacting, and working with counselors. Matching is fast and can be done directly through the browser. Booking a session is a pain-free process that's made easier with a free introductory phone call. Although your responses to the questionnaire determine the therapists you're matched with, you still get to pick and choose out of 10. 
Is Timewith For You?
Timewith is perfect for you if:
You'd want to combine face-to-face with online or phone therapy for convenience

You prefer working with counselors within your geographical area

You prefer clear-cut pricing 

You worry about not getting a good fit the first time you choose a counselor
However, this service is not for you if you're in danger, need emergency help, or are considering harming yourself or others. Dial 999 or 112 for emergency services near you. 
The Verdict
Timewith delivers on most of the promises made by its founders. It provides a quick and straightforward way to access therapy. It takes out most of the confusion that comes with subscription by having a clear pay-as-you-go pricing structure. Most importantly, the platform adds to the growing list of online therapy platforms making mental healthcare accessible to all.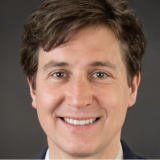 Daniel Perry
Daniel is a licensed Clinical Psychologist and cognitive behavioral therapy practitioner. Daniel helps his clients overcome a variety of mental health problems, including depression and anxiety. He also writes about mental health in his blog and helps us review popular online therapy platforms.
Read more
Best Online Therapy Services: