AmWell Review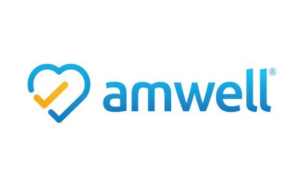 AmWell Review | Here's What You Should Know
Online therapy comes with many benefits and can be as effective as in-person therapy. Research links this type of counseling with easier access to mental health care, reduced cost of care, and more consistent therapy. There is also the benefit that online therapy can be scheduled more frequently and flexibly according to the needs of the client. You also get to overcome the social stigma that is often linked to obtaining therapy.
While online therapy benefits are plenty, not all providers of this type of counseling are effective. So, while the Internet has opened up numerous opportunities for people to access mental health treatment, choosing a reliable and affordable provider is critical.
This is why reading through AmWell reviews becomes important. In this review, we look through the various attributes of a renowned provider of online therapy to make sure that clients make informed decisions regarding their mental health.
About AmWell Com: The Service in a Nutshell
The Internet has made it easy for people in need of therapy to access quality, affordable, and convenient care. Today, anyone from any part of the world can access advanced medical services without even having to leave the comfort of his or her home.
Thanks to telemedicine, companies such as AmWell, today offer support to patients around-the-clock. There are no issues of crowded spaces or the stigma associated with seeking mental health services.
AmWell is an American company that offers telemedicine services over the Internet around-the-clock, which can be accessed from a browser or through a dedicated mobile app. The company offers a wide range of services, including psychotherapy, medical consultation, pediatrics, and dermatological consultation.
While this may not be the largest and most renowned telehealth company, it has amazing reviews from previous clients who consider it the go-to service to get help with urgent but non-emergency issues.

According to information on the company website, AmWell was created to offer services that suit people who have trouble fitting an in-office doctor into their daily schedules. It can also be ideal if you are still undecided about visiting the emergency room. You could also use AmWell if you need a second opinion or don't have the insurance needed to pay for a doctor's appointment.
AmWell Psychiatry Reviews: Major Elements Considered
Telehealth services have emerged to offer quality and affordable therapy in an easily accessible format. However, the providers of these services are not designed the same. There are those that offer quality services at affordable rates, while others focus more on privacy but cannot guarantee affordability. In our review, we sought to determine whether the AmWell service offers the kind of comprehensive service delivered by top players in the telemedicine industry.
If you are looking to hire a telemedicine provider but don't know how to get started or are just looking for a free trial, you will find this review particularly useful. We have identified the various qualities that make a great online therapy provider and have used them to analyze AmWell. Here are some notable features:
Ease of Signing Up
Signing up to AmWell telemedicine is simple and straightforward. If you are considering getting treatment from online professionals, you will find the process of enrolling up on the company website simple and easy to execute. You can download the company app on your smartphone or visit the website on your desktop.
The signing up process will require the user to locate a prompt form on the page and let the company know whether or not you have health insurance. Of course, it is not a requirement that you have health insurance coverage to use AmWell. Next, you will be prompted to create an account. To do this, all you need is some basic contact details that will allow you to have a profile with the company.
When signing up, don't be shocked when asked if your employer has a service key. After all, there are many companies that provide discounted or free care to their employees using AmWell as part of the benefits. The client is then taken to a page where he or she can choose preferred services. You can also choose the language that you prefer to obtain care in, either English or Spanish. The intention is to reduce language barriers in accessing care, particularly for those who use English as a second language.

Once you have completed the registration process (this is a simple process that only takes a few minutes), you can proceed straight to making an appointment. You can either schedule an appointment to obtain care straight away or opt to book an appointment to consult a doctor later. Choose an option that works best for your schedule.
Another aspect of our counselor reviews is the process of selecting a therapist. What most people love about AmWell, you can choose the doctor to provide care, depending on your needs and the therapist's area of expertise. Like with in-office consultation, the therapist will talk to you about your health history, the symptoms that you exhibit, and possibly conduct an exam through video. The therapist may recommend treatments or may make a referral for further examination.
Affordability of the AmWell
Cost is an important element to consider when looking for a service to provide therapy online. Most people assume that telehealth services ought to be relatively cheaper compared to in-office consultation, although this is not always the case. You need to check whether the provider offers support within your financial range and whether the company accepts insurance.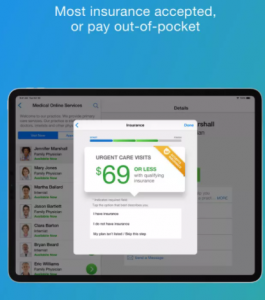 AmWell has established a set fee for doctor consultations. Of course, the portion of the fees covered by your insurance will depend on the type of coverage you have. The cost of engaging a doctor on this platform will mostly cost you a standard rate of $85 for every visit, which often lasts approximately 10 minutes. Of course, if you desire, you can add more time according to your healthcare needs. There is also a promo code that you can use to lower the price of obtaining care.
Usability of the AmWell Service
The experts who designed AmWell prioritized the usability of its platforms. Users find the desktop platform incredibly simple and hassle-free to navigate. There are also prompts that users can benefit from in terms of guidance and locating the details required.
Also, the process of signing up is incredibly simple. When the time comes to engage a therapist or doctor, all you need to do is talk to customer support. There are also options to use video platforms like Google Video and Skype. When using the platform, you will also find responsive customer support agents particularly useful, particularly when you have issues accessing the services.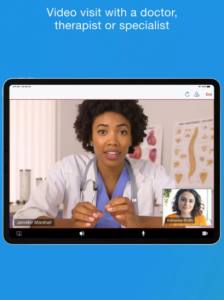 Next, you will be invited to offer your feedback or place a review of the quality of service delivered. This is the company's way of always improving customer experience. It allows the company to ascertain that providers keep delivering exceptional care and allows future clients to decide whether the AmWell is ideal for them.
Effectiveness of AmWell Doctor Support
An important aspect of our counselor reviews is the effectiveness of the services provided. The main reason why AmWell continues to obtain such high ratings from its previous clients is the doctors' quality work working for the service. AmWell has taken time to vet all the professionals hired to deliver care carefully. The outcome is that anyone seeking support obtains value for his or her money. The professionals delivering care are reachable around-the-clock and are able to give out prescriptions and order tests.
Privacy and Confidentiality of AmWell Customers
Whether you are getting in-office care or getting support online, your privacy as a patient is critical. Like most top telehealth services, Amwell states on its website that its main priority is ensuring that client privacy is protected. The company has taken measures to keep customer information safe from the prying eyes of third parties and identity thieves. The platform has been intended to be safe and private, and all client data is protected using high-end data encryption.
Most people choosing to get health care online prefer to remain anonymous. Since the AmWell site allows users to create usernames and avoid using their images, the level of anonymity can be ideal. Of course, when using video chat on the platform, concealing identities becomes almost impossible.
What About the Qualifications of AmWell Doctors?
It is not possible to discuss any telehealth service attributes without examining the qualifications of the professionals delivering care. Since AmWell offers a wide variety of health services, the qualifications of its professionals vary considerably.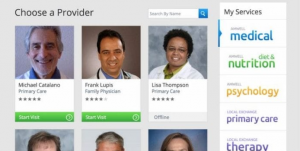 AmWell has doctors ranging from social workers, therapists, and other mental health experts with diverse specialization degrees. The experts offering mental health support have been selected through a strict vetting process and have been trained and certified in the art of delivering competent telehealthcare.
What Are the Areas of Proficiency of AmWell?
Since there are psychologists and other professionals offering a wide range of services in the AmWell, some users may find the process of signing up for this service somewhat confusing. However, there is a customer support department to guide you through the stages. Also, it is highly likely that you will get the help you need since there are many specialties covered.
What is amazing is that the AmWell website offers telehealth services for children as well as grownups and adolescences. Of course, you can choose to engage your doctor through a platform that you consider ideal, whether video, chat, messaging, or a combination of all.
Some of the areas of care offered at AmWell include:
Psychiatry;
Menopause nutrition;
Postpartum and pregnancy care;
Cardiology;
Breastfeeding support;
Menopause care;
Dermatology;
Pediatrics;
Neurology;
Depression;
Nutrition counseling;
Stress;
Women's health;
Physical therapy.
Anxiety;
The Bottomline: Is AmWell Legit?
AmWell is not just one of the biggest telemedicine companies in the United States at the moment. It is one of the most preferred, going by the numerous positive reviews online. Their rise to the top has mostly been because of their dedicated staff and incredible customer support. With established rates of around $85 for every consultation, the service is affordable, even for those without insurance. You can contact their customer support to see how work is done by their care professionals. Feel free to give AmWell a try!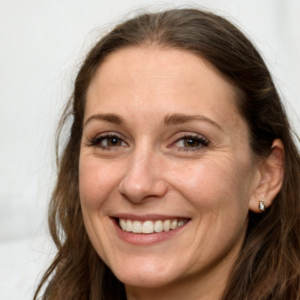 Dr. Pat Brawley
I have a Master of Science degree in Counseling Psychology and a Ph.D. in Psychology. I am a licensed professional counselor in private practice. In addition to individual and group therapy, I consult with physicians, attorneys, professionals, and athletes.
Read more
Best Online Therapy Services: