Dr on Demand

Doctor on Demand Review: An In-Depth Evaluation of the Service
What is Doctor on Demand? It is an online therapy platform that provides treatment to patients through videoconferencing. The U.S based service was founded in 2012 and focuses on treating non-emergency medical issues. Patients benefit from not having to travel to a physical office to seek help on minor health issues and mental health.
We have taken it upon ourselves to provide an accurate review of the site. This way, potential clients will make an informed decision on whether or not to acquire the services.

Dr on Demand Reviews: The Services Offered on the Platform
Dr on Demand consists of doctors across different medical fields, including psychiatrists and psychologists. They have been trained to help patients through medication and therapy for diverse issues, such as:
Stress;
Anxiety;
Insomnia;
Depression;
Panic attacks;
Fatigue;
Loss;
Behavioral therapy;
Grief management;
Anger Management;
The platform also offers treatment for urgent but non-emergency conditions. They include allergies, respiratory infections, yeast infections, back pain, sports injuries, heartburn, diarrhea, nausea, and rashes. Furthermore, physicians are eligible to offer prescription refills and travel medicine.
Doctor on Demand Reviews on the Features of the Service
The online service has various unique perks that make it a great choice for anyone with urgent conditions. For one, the service uses live chat. Patients can have real-time conversations with their physicians, whereby they can even point out their symptoms if need be. Furthermore, the live video chat eliminates the need to travel to hospitals to see mental health specialists.
Additionally, the website does not have subscriptions. You don't need to commit to the service, and you use it when you need it. The site is well-equipped to serve both adults and children. The specialists assist children with minor health issues and provide counseling for mental issues.
Clients can also make appointments around the clock. Thus, Dr on Demand navigates the challenge of being limited to certain times of the day to make appointments. Their 24-hour system allows patients to schedule appointments at their convenience.
Doctor on Demand is not just an assessment service for patients. A Doctor on Demand psychiatrist can provide a prescription for their patients for their conditions. Therefore, patients do not need to acquire prescriptions from other sources.
Besides, a patient can choose their preferred specialist. The service allows individuals to consult the professionals they want, whether doctors or psychiatrists, depending on preference. So, clients don't have to keep familiarizing themselves with new specialists each time they need assistance.
Also, Dr on Demand has physical locations where individuals can get physical services. For example, when lab samples are needed, the platform has partner labs that individuals can order tests and receive their results.
Design: The Ease of Navigating Dr on Demand Site
The site has a good design that is simple and makes navigation easy. On the homepage, a client can access all the information needed to decide whether to use the services. From the top, there is a well-listed menu that contains the conditions that the specialists treat.
The "Join" button is placed at the top, and clients don't even have to scroll down to register. Once you get to the registration page, you only need an email and your date of birth to create an account. Furthermore, there are Dr on Demand reviews from different clients on the same page to give you a preview of what to expect from the service.
Then, you are treated to the different perks of the services. At the bottom, there is a section where you can contact them and even learn more about their service, through the FAQ. Also, there are links where clients can download the firm's mobile app.
Signing Up: How to Access a Doctor on Demand Psychiatrist
Patients have the option of signing up via their site or through the official Dr on Demand app. First, the user will have to answer some questions to register on the site successfully. Then, when you click on the "See the Doctor Now" button, you'll be asked further questions about your symptoms. From there, you book your appointment, depending on what is ailing/affecting you.
The sign-up process is easy and takes less time. Furthermore, appointments are fast, and you can land one within 24 hours. However, landing an appointment takes longer for people living outside the U.S.

Pricing and Payment: How Much Is Doctor on Demand?
For therapy, clients are charged according to the session's length, whereby there are 25-minute spells billed at $129 and 50-minute periods that cost $179. However, for psychiatric assistance, the initial fee starts at $299.
Medical visits are charged every fifteen minutes, and the price for each session is around $75. Before the fifteen minutes are up, a client is asked whether they would like to extend the session, with fifteen extra minutes at the same rate.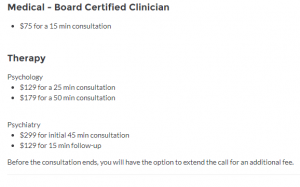 Since there is no subscription, a client is supposed to schedule each appointment individually. You cannot purchase appointments in bulk, and the payment is made at the time of service. The platform allows payment via any of the major credit cards.
A great perk of the service is that they allow payment via insurance, and patients pay less. All you will have to do is provide your medical insurance details during the registration process. There are no hidden charges. Every price is revealed upfront.
Promo Code and Discounted Prices
Aside from health insurance, there are other ways that clients can get discounts when using the service. First, they offer employee discounts to clients working for various companies such as Walmart, Comcast, American Airlines, etc.
The company also offers promo codes to clients that they can use to get cheaper rates. A customer is offered a free trial video session when they have a certain promo code to test the site and decide whether they will use it.
Is There a Dr on Demand App?
As a customer, you have the choice of using their website on your devices or downloading their mobile application. The app is compatible with both Android and iOS systems. All you need to have is a device that has a front camera and a stable internet connection. Wi-Fi is recommended during sessions for better interaction.
Moreover, if you experience connection problems, there's the option of turning off video and using audio-only interaction. The mobile application is much easier to use than the web app because it provides essential features such as identifying specialists near your location and providing their biographies.
You select your preferred specialist after seeing their qualifications. When setting appointments, there's an option of browsing different times and seeing the professionals who are available during that period. Additionally, there are various counselor reviews on the app download site that potential clients can read while making the decision.
Doctor on Demand Privacy Policy
For proper assessment and treatment, clients have to disclose some personal information. The basic identity information includes name, address, date of birth, email, phone number, and even Medicare number. You will also need to provide some medical history to get help with healthcare.
Various Doctor on Demand reviews agree that the firm takes clients' privacy seriously. The company does not disclose any personal information to third parties without the client's consent. They understand that patients need to feel comfortable and assured that their data is safe.
Thus, the firm stores the information in encrypted servers in secured databases. The company also uses HIPAA compliant systems.
Additionally, any personal information you provide as a client is only used to meet your health needs. Although Dr on Demand reserves the right to change or modify their privacy policy, clients are always given notice before implementation. The platform also invites inquiries or even complains about the policies via their email.
The Qualifications of Specialists at Dr on Demand
How qualified are the doctors at Dr on Demand? Well, the specialists that want to join the platform undergo a tough process that ensures only the best are chosen. Their credentials are thoroughly reviewed during the interview stage. Psychiatrist reviews are done on factors such as training, license, and clinical experience.
Additionally, they receive some training on how work is done before handling clients. Each professional undergoes a trial period where the quality assurance department monitors them.
Customer Service: How to Present Your Queries
Customer service is not the firm's strong suit. Unlike other services, you can't contact the company's experts via online live chat. However, they have a "Contact Us" section that includes a phone number and message support. You can leave your name, email, and any question you might have, and they will get back to you later.
The Cons of Doctor on Demand
Even though different provider reviews have many positive things to say about the site, there are some cons to the service than others in a similar field.
First, their pricing is a bit higher for therapy as compared to other platforms. Their $129 and $179 rates per session are quite steep in comparison with others, which charge up to $100 for therapy.
Second, the platform has a limited number of specialists. For a service that should serve patients from almost all states, the specialists available are quite limited. It also means that there isn't too much variety to choose from than other online platforms.
Third, clients outside the U.S are slightly inconvenienced by the site. Even though Dr on Demand is not limited to the U.S, the service might not work for customers from other countries. It is because the registration takes longer, and a client has to wait. Then, it also takes time to find appointments for individuals outside the country.
Finally, the site experiences common technical issues. For one, signing up sometimes takes longer because of technical difficulties on their side. Also, sometimes, reaching a specialist using video is problematic because of issues with the connection.

 The Verdict
The Doctor on Demand cost is justified in that you choose your specialist. Their psychiatrists, doctors, and psychologists are professionals at the top of their field. It is best suited for people looking for quick access to professional psychologists.
The service is built on getting clients quick visits that people can fit into their schedules. The site also has several positive reviews from clients who have tried it and who still use the service.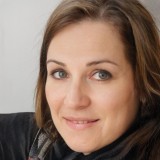 Sophia Connor
Sophia is a mental health and wellness expert with a background in psychology and over 8 years of experience in content writing. She focuses on learning and writing about the skills people need to heal, cultivate happiness, and restore joy in their lives.
Read more
Best Online Therapy Services: