Counseling on Demand Review

Everything You Should Know About
Counseling on Demand Before You Start Using It
Pros
✅ Easy-to-use straightforward interface
✅ Flexible pricing options; 
✅ Complimentary consultation available
✅ Wide range of expertise 
Cons:
💥 There are only 21 counselors
💥 Not all of the counselors are fully licensed – many of them are life coaches
💥 There are no terms of service or confidentiality guarantee on their website
Online therapy is getting more and more popular among people throughout the world. Now, there are plenty of platforms that offer services of counseling. Its popularity can be easily explained with better convenience, reasonable pricing options in comparison with common face-to-face meetings. In addition, online therapy platforms enable users to get access to a wide pool of professionals with different levels of expertise and particular experience. 
Counseling on Demand therapy is a widely used service and today we are going to learn the essentials about them so you can ensure you are about to use the website where you can connect with qualified therapists. 
In this unbiased review you will be able to find out: 
main pros and cons of

Counseling on Demand

how it works

who are the therapists on board

what the pricing policy is

and so many more
So, keep reading to find out everything you need to know about Counseling on Demand online and make a well-informed decision based on our honest review. Let's get started.

Main Pros and Cons of Counseling on Demand
Before we start with the detailed platform review, let's consider the main advantages and disadvantages of Counseling On Demand. Read it carefully as it will give you a better understanding of this platform so you can make the choice you won't regret. So here it is. 
Why Should You Use It?
Easy-to-use straightforward interface

Flexible pricing options 

Complimentary consultation available

Wide range of expertise
Why You Shouldn't Use It? 
There are only 21 counselors

Not all their counselors are fully licensed – many of them are life coaches 

There are no terms of service or their confidentiality guarantee on their website
We will describe the service in detail, but these points demonstrate that this platform is certainly worth your attention. It may be an option if you are looking for an online counseling service as you can connect with qualified specialists, pay a reasonable price for sessions, and improve your mental and emotional health in a comfortable way. Despite the few inconveniences, it is still a good option and you may consider it. 
General Platform Overview: What Is Counseling On Demand?
CounselingOnDemand is a website dedicated to providing professional counseling services to people who need to get through some challenging times. The service connects experienced therapists with people throughout the world. They have a focus on a variety of common mental issues and emotional problems.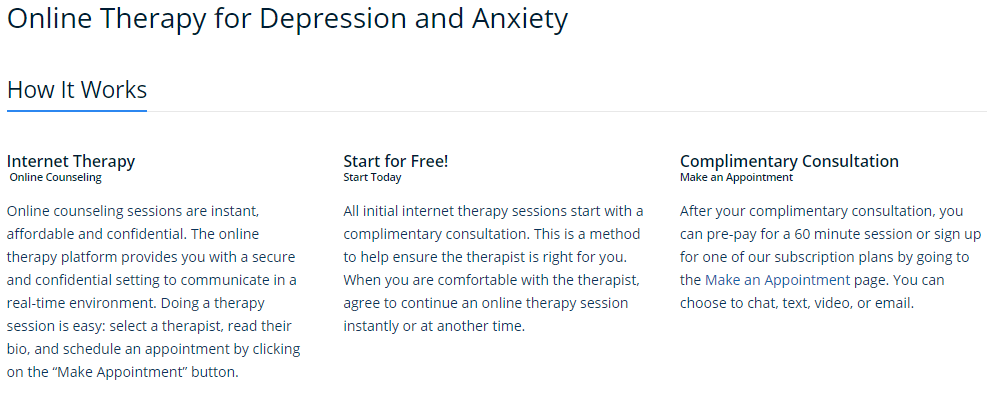 How Does Everything Work? 
The process is very simple. The first step you have to take to start having sessions on this website is to register your personal account. It will take only a few minutes and you have to provide your basic personal and contact information to sign up for a new account. 
Once the account is created, you will see a drop-down menu where you will have to select a problem you want to solve with help of online therapy. After this, you can also select the desired specialist. Before you make this choice, you can check out the list of counselors on the website and get familiar with their main qualifications and experience. Remember, that it's extremely important to work with a therapist you feel completely comfortable communicating with. 
You will also have a free complimentary session where you can see whether the counselor is the right person for you. If you are ok with a professional selected, you can feel free to choose one of three subscription plans available on the website or opt for a one-time session. You will find detailed information regarding their pricing policy in the section below. 
What Mental Health Issues They Treat? 
If you are wondering what is the scope of expertise on the CounselingOnDemand website, then check out the list of the most common issues their professionals can work with:
depression;

anxiety;

social anxiety disorder;

bipolar disorder;

obsessive-compulsive disorder;

post-traumatic stress disorder;

panic disorder;

dysthymia;

addictions and substance abuse problems;

marriage and relationship problems. 
These are only several examples of problems that counselors can deal with. No matter what is your problem, you can feel free to share it with a therapist chosen and they will come up with an effective treatment so you can start getting better. The main thing to mention about the platform is that counselors offer a personalized approach and all your needs will be taken into account during the treatment process so you can achieve the desired results faster. 
What Is the Qualification of
Therapists
at
Counseling on Demand?
Many counselors that work for Counseling on Demand have all the required education and qualification which enables them to address different mental issues, and there are also life coaches, pastoral counselors, occupational therapists, Christian counselors, and more. They are qualified in different areas and people with various problems can seek help here. 
Most of the specialists have more than 10 years of experience in this field and they will be able to provide the professional guidance, emotional support required in your particular case. You can get familiar with their qualification in their profiles and decide which therapist you want to work with. 
Pricing Policy and Subscription Range
Speaking of their pricing policy, it's very reasonable and people with different budgets will have a chance to pick the perfect subscription option:
If you are not ready to pay for the whole month and want to give it a try only then the best option is to pay for one single session to connect with a counselor. It lasts 60 minutes and costs is $90. 
This plan will cost you $70 per month and for the money, you pay the service offers you one 30-minute session (each additional session will cost you$90), set your goals, get video prayer responses, and get your wellness score.
The price for this plan is $215 and it includes two 60-minute sessions with a therapist. In addition to all the benefits described in the basic plan, you will get an unlimited number of therapist video answers. If you want more sessions then each one will cost you an additional $90. 
This plan includes four 60-minute sessions, unlimited therapist support via chat and video, monthly personalized analysis, and all the perks that a Plus Plan offers. It will cost you $375 per month.  
You can pay for the plan chosen with your credit or debit card on the website. In case you need a refund, you will be required to contact the support team and they will guide you through the process.
About the User Experience
The website is pretty simple to use so people with different technical expertise will be able to use it with ease. The registration process takes up to a few minutes and then you will be able to look at the specialists available. You can find all the information about them, including their bio and professional experience. 
Scheduling a session is also straightforward and you can get your appointment in just one single click. A complimentary session makes it possible to decide whether the counselor or life coach selected is a perfect match, which makes the overall user experience very positive.
In addition, there is an app called Enthrive that you can use in case you prefer communicating with therapists via your smartphone. The app is very user-friendly and you can easily connect with your counselor, track your progress, and use all features available to make your progress even faster. 
Customer Support Service Quality 
If you are visiting Counseling On Demand platforms, then you will be able to connect with customer support specialists in the right corner. In case you have a question related to the process, you can simply leave the message there, and you will get a quick response from a customer support representative in just a few minutes. All their answers are extensive and they do all their best to deliver a good customer experience and solve any issues their visitors encounter.  
Platform Verdict
As you can see from the review, the platform is a good solution that includes everything customers are looking for. There are diverse subscription options to fit various needs and preferences. 
All counselors and life coaches are qualified enough to help you solve your emotional problems. The main thing to mention is that everything is transparent and you can check out the experience and qualification of each specialist before you choose them as your therapist. This service will be a universal choice for everyone as it has no major drawbacks. 
Feel free to check out other Counseling On Demand reviews so you can consider all advantages and drawbacks of this platform and start using it right away in case you like it and it meets all your needs. The choice you make is very important so take your time and read more about the platform to pick the right platform. 
Final Thoughts about therapy platform
This is only one service from a wide range of available therapy websites on the market. No matter what choice you make, it's crucial to consider all pros and cons as your mental health is the most important and fragile thing. Online therapy is a proven way that helps so many people overcome their emotional and mental issues. Your well-being is in your hands, so don't wait and start positively transforming your life. In case your friend or family member needs professional support, then don't wait and connect them with an online therapist so they can feel better. 
Now, everything is made for your convenience. There is no need to waste time while commuting to a therapist's office. All you have to do is to find a suitable online therapy platform and start sharing everything that's on your mind with your counselor. You will be able to get all the required support and guidance to get back on track and live a happy fulfilling life.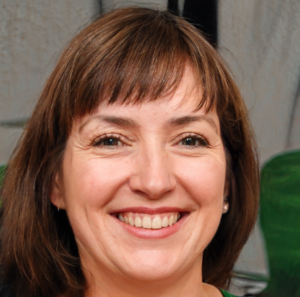 Marlene Shiple
I am Dr. Marlene Shiple. State certified and licensed as a Professional Counselor, I have 30+ years of experience helping people to make their lives better and happier.
Read more
Best Online Therapy Services: