Teen Counseling Overview

Teen Counseling Overview
If you are trying to find an answer to the question "What is the best teenage counseling near me?" reading this article is a must. In-person counseling sessions are a nice option, but it doesn't suit everyone. For people who find it hard to open up to a complete stranger and consider it more comfortable communicating in the distance, online counseling might be a better idea.
Teen Counseling is a therapy site designed for helping teenagers with their mental health issues. At the age of 13-19, we are the most vulnerable and shy. It is this age that brings the most problems. And the best way to solve those problems is by getting help from a licensed teen counselor, which can be found on this online platform.
Teenagers can get professional help from qualified therapists from any place in the world. Whether they are at school and become the next victim of bullying or need someone who will always be there to deal with anxiety, the website's specialists are ready to help. All that they need is a secure Internet connection and a device to reach the site. The counseling session format can be chosen according to the teenager's preferences – texting, calls, or video.
To help the parents make up their minds about whether Teen Counseling is the option that they need for their teens, check out this list of the website's advantages and downsides:
Pros:
Unlimited counseling flat fee option;
Therapists can be reached out to 24/7;
Any type of counseling session is available;
Complete privacy;
A mobile app is available for usage.
Cons:
To get the needed medication prescribed, you will have to visit your doctor in-person;
Not always you get an immediate reply;
No trial period.

What Problems Does Teen Counseling Com Help Solve?
The highly-trained counseling professionals of this site are qualified enough to assist teenagers with almost any mental health issues. Some of the most common ones include:
Stress;
Low self-esteem;
Anger;
Anxiety;
Appetite problems;
Grief;
Bullying;
Substance abuse;
School issues;
However, you should be aware that Teen Counseling is unable to help teenagers who have suicidal thoughts or the ones that have been instructed by the court to go through mental health treatment.
How Work Therapy Sessions Are Carried Out in Teen Counseling
Since this service is provided only via the internet, your teenager will need an electronic device and a strong connection to the internet to access it. The "rooms" that the users log in to are 100% secure. They can be confident that nothing that they tell the therapists will be known to anyone else. Everything that is spoken about remains a complete secret.
The counseling for teens sessions are very similar to using Skype or Viber. And it is up to the teenager to decide what kind of communication method they will use:
Real-time chat via video. This is the most often used method since it allows the counselor to hear the teenager and watch their movements and emotions as they speak.
Text messaging. This method is perfect when you want to tell your counselor about something, but you can't reach him via any other form.
Speaking via mobile phone. This counseling type is best for the ones that are shy to speak up on a camera.
If a teenager gets the urge to open up about something to the therapist, they can easily do it. The platform is open for access for teens at any time of the day and night. However, not always the therapist will be able to give you some advice immediately. Therefore, the teenager might have to wait for some time for an answer.
How Much Does Online Therapy for Teens Cost?
The membership's price varies according to the services you choose – from $40 to $70 per week. It is a bi-monthly payment. This flat fee includes all of the counseling session communication methods and covers both the parent and the teen. If you want to cancel your membership, you are free to do it at any time.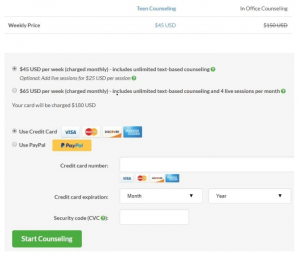 Unfortunately, this platform does not offer a free trial. But from time to time, valid promo code offers become available.
Why Should Teen Counseling Com Be Chosen Among Others?
If you are a parent of a teenager, you should know how difficult they get. Sometimes parents are not able to help them deal with all their issues. And here is where Teen Counseling can give a helping hand. Since this website is devoted only to helping teens, it is a great choice.
This platform is a safe space for any teenager since all of the information that the teenager opens up about will be kept in strict confidentiality. So, a teenager can be sure that their parents will not be a part of their counseling sessions, as long as they don't tell them about everything themselves. However, to take advantage of Teen Counseling, the teens have to provide the parents' consent to use these services.
How to Register On the Teen Counseling Website?
The registration process on this platform is pretty straightforward. Since the website is very easy to navigate and has a simple and user-friendly interface, there should be no signing up problems. Here is how this process looks like:
After opening the home page, you will need to choose whether you are the teen's parent.
If you are the parent, you will have to select whether you seek professional help for your child or parental advice.
If you are a teen, your next step will be completing a questionnaire and providing some details about the issue you hope to solve.
Then you will get matched with an experienced therapist who will help you in your situation. If you want to know a bit more information about the counseling expert, be sure to check out the counselor reviews.
Only after your parent has permitted you to use this service and paid the fee, you can choose the communication method and begin to receive mental health help.
Remember that you need your parents to complete the registration process. Only then will you be allowed to use the platform's services.
Does Teenage Counseling Have a Confidentiality Policy?
As in any other respectable online therapy for teens platform, this one also takes confidentiality and privacy matters seriously. All of the text messages between the users and the counseling professionals are protected by SSL – a first-class innovative encryption system. Moreover, all of the company's employees are subject to privacy laws such as HIPAA.
Furthermore, this counseling website does not accept any insurance. That means that all of the teenager's health information is private and will never be shared with anyone, not even with insurance companies. Even your phone number is kept a secret from the therapist. You can contact the counseling professional and vice versa only through the website or app.
The main idea behind this online counseling service is to provide teens with a safe space where they will feel free to open up about their issues and won't worry that someone is going to judge them. With this in mind, all of the topics discussed by the teenager and the counseling expert are kept a secret from everyone, including the parents. However, there are cases when the counseling professional is obliged to give out such information:
If the teen is a threat to themselves or surrounding people;
If the teenager tells about someone else that is being abused;
If the teenager states that an older adult or a person under 18 is being neglected.
The exceptions when the therapists must report to someone about the things being said at the session are clearly stated at registration.
Frequently Asked Questions About Online Therapy for Teens
If, after reading these reviews, you still have some questions left, please check out this section. Here we answered the most common questions regarding teen counseling com.
Are the counseling services provided by this platform safe?
Yes. Try thinking about this platform as of the usual, in-person counseling services, but digitized. The website developers do everything possible to make sure that no one can get to the teenager's private information. Moreover, none of the services won't be provided until the teenager's parents consent to it.
Is there a free version?
Unfortunately, no. The only way to use this service is to pay the weekly rate, which ranges between $60-$80.
Can Teen Counseling help deal with anxiety?
Yes. The mental health experts are equipped with the knowledge to assist with any issue that the teen may be experiencing. However, it should be noted that they are not allowed to prescribe any medicine.
Do employed therapists have a high level of expertise?
Yes. All of them have the highest degree level in their field. Moreover, they are licensed and trained with teenagers.
Does it have customer support?
If the parent or teenager stumbles on any issues, they can easily reach customer support. It can be reached either directly from the website by filling out the form at the bottom of the page or writing an email letter to the support's address. Usually, you will get an instant answer and solution to any technical issues that may have occurred.
Conclusion
Teen Counseling is a good website that provides teenagers with mental health help. It is an infrequent occurrence for a teen to ask to help by themselves. So, if a parent sees that their child is going through something serious, but has no desire to talk it out with them, some action has to be taken. And the best choice that parents can come up with is – online counseling.
Whether you believe it or not, this type of counseling session is not worse than the traditional one in any way. The platform reviewed in this article does a great job of providing counseling services to the children aged 13-19. Whether the teen is desperately in need to have someone to talk to, or has already opened up to you about their issues, resorting to fully accredited and licensed counseling specialists is a good idea.
Teen Counseling has everything that a professional therapy website needs to have – highly trained employees, strict confidentiality rules, affordable payments, multiple communication methods, etc. And the best thing about Teen Counseling is that their experts can help both teenagers and their parents.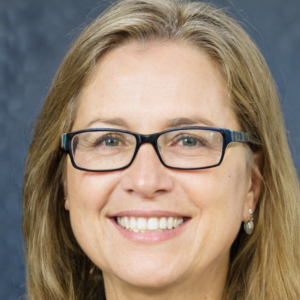 Carolyn Rounds
Licensure: NYS Licensed Clinical Social Worker, R205276-1 NYS Licensed Elementary School Teacher Professional Associations: National Association of Social Workers Academy of Certified Social Workers
Read more
Best Online Therapy Services: