Relationship Hero

RelationshipHero.Com Reviews: An In-Depth Assessment
RelationshipHero was established to help persons with challenges concerning relations get advice online. The platform's main goal is to provide clients with essential relationship guidance and help solve issues conveniently and privately.
The company was started in 2017 and has its headquarters in San Francisco. It helps individuals establish and maintain healthy social, familial, romantic, and professional relationships.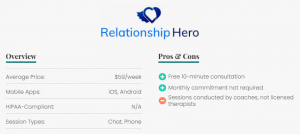 Relationship Hero: How It Works
The company provides 24-hour assistance to persons who require advice about relationships. They have multiple coaches that are available at any time of the day. Thus, customers don't have to make appointments to get the services.
The platform provides individuals with access to highly qualified and trained coaches, and all a client needs is a smartphone, computer, or tablet to get started. Additionally, the coaching sessions are virtual, and a client has a choice between video chat, a phone call, or a message chat. Moreover, the platform provides group sessions at a separate fee.
Relationship Hero Website Design
The site has a good-looking design that is easy to navigate. At the top, there are links to information that clients can assess before trusting the service. In particular, there is the "About" section where you learn more about the service.

Also, there are profiles for different coaches to help you to evaluate the qualification of the experts. Moreover, you can access the reviews from former clients.
Sign-Up Procedure: How to Get Help at Relationship Hero
Registering for services only takes a few minutes. First, you will need to click on the "sign up" button. The sign-up page consists of questions that you need to answer, depending on the help you want to find. There are have different categories, such as dating, cheating, building attraction, dealing with unhealthy relationship patterns, among others. Therefore, the questions to answer depends on what you select.
Then, you are supposed to pick the mode of communication you want to use, whether live chat or through a call. From there, you will receive your consultation for free. New customers are granted ten minutes of a free consultation where they are informed of how they can benefit from counseling. You also receive some tips about how the platform works. It assists you in knowing the quality of service to expect.
After consulting, you choose whether you want to get assistance from one of their specialists. The platform pairs you with the right expert based on the info you present.
Subscriptions are optional, and you don't need plans like other online therapy platforms. However, you can pay as you use the service since it is charged per minute.
Relationship Hero Reviews About Privacy
The firm takes client privacy seriously. All communications between customers and specialists are encrypted to prevent access to unauthorized individuals.
Furthermore, they allow the use of a nickname. Thus, if you don't want to reveal your identity, you will still remain anonymous. Moreover, you don't have to provide a lot of personal information, since it is just about dating guidance and counseling.
Is Relationship Hero Worth It? How Much Does It Cost to Get a Service?
What is the price of a service? The first thing we need to consider is that consultation is free for new clients. From there, the company offers two plans that individuals are supposed to choose according to their preferences.
There is the Sage Plan. You pay for 60 minutes that can be utilized anytime at $75. With this plan, you get 16% savings as compared to paying by the minute plan.
The Hero plan provides clients with 240 minutes at $300. Clients who select this plan receive 38% savings in comparison to buying a 15-minute increment on plans.
The cost of the subscription service is $79 a week, a fee that you pay monthly. It also comprises 240 minutes monthly. The service consists of two sessions weekly, and clients receive extra perks such as:
Being part of a private Facebook group for discussions;
Unlimited messaging;
Joining group coaching sessions with clients who have similar experiences;
Picking a specific time for all your appointments, depending on your schedule;
Free E-books written by the coaches.
The subscription is the cheapest option of the three. The company allows payment via all the major credit cards. Payments are processed safely, and clients remain secure when using the services.
Qualifications and Counselor Reviews
How qualified are the relationship consultants? Well, the advisers at the company are individuals with degrees, mostly in psychology and sociology. Each of the coaches has been profiled on the website, and clients can browse their qualifications and experience.
However, it's imperative to remember that the helpers aren't mental health specialists. They are persons with experience and expertise in offering advice. In particular, they're trained to listen and provide constructive input on relationship matters. The coaches specialize in diverse areas, including:
Social development;
Psychology;
Toxic relationships;
Marriage troubles;
Barriers to communication;
Family planning;
Social care.
Noteworthy, these relationship advisers have been trained by the company before being allowed to provide advice to clients. Besides, even though you get matched with an adviser, you can get insights from another professional within their ranks.
Additionally, each of the company's professionals has reviews from the individuals they have helped previously. Relationship Hero reviews can be found under each professional's profile. They are legit and well-detailed, showing prospective clients what they can expect from the service.
Ease of Getting Help at Relationship Hero
Acquiring a service is straightforward. All you need is a device that can access the internet, either smartphones, tablets, or a computer. Moreover, the company has an app for Android and iOS systems, which provides a more user-friendly experience.
Are There Freebies at Relationship Hero?
The platform offers a free trial for clients to test the service before deciding whether they will stick to it. Customers can consult with an expert for 10 minutes free of charge. Here, a client can see how discussing their matters with the experts will be like. Therefore, you get a preview of what to expect, and it helps you decide whether the service is good for you.
RelationshipHero.Com Reviews on the Firm's Benefits
The platform offers many advantages. For one, it provides a platform where you can receive advice about love and relationships in general. Thus, you can use the site even when you are still single and don't have a partner.
Additionally, the site covers all types of relations, including professional ones in the workplace. Therefore, whatever situation you might be going through, there is someone capable of providing you with great advice.
Also, due to the many coaches available at the firm, getting advice is quite fast. You can be linked with a coach as soon as you need them. There are no long waiting times or picking appointments like you do when going for therapy sessions at a physical office.
Moreover, the platform provides 24/7 availability of services to clients. Therefore, you can schedule your own time to get assistance from the coaches. You are also free to ask as many questions as you need about relationships or dating.
The credits/minutes you purchase will never expire. If you don't wish to subscribe to the service, you can purchase the credits, which you can use at any time in the future. They can't expire, no matter how long apart your sessions are.
Another fantastic perk of using the platform is that the coachers are well trained to provide the right answers and help individuals arrive at the right solutions concerning relationships. Moreover, clients who acquire assistance from the firm are guaranteed a full refund if they were not satisfied with their first session. It means that the firm is confident in its services and the abilities of its coaches.
Finally, the platform does not have hidden fees for clients. The flat rate for assistance is $1.25, charged per minute. From there, you can calculate how much you will need based on the amount of time you will require.
Relationshiphero.Com Reviews: Limitations of the Service
While the relationship reviews are positive, the site has some limitations that need to be considered. First, there are no indications of promotions by the service. Unlike other online therapy platforms, you can't use a promo code to acquire cheaper rates with Relationship Hero. The rates charged by the company are fixed.
Also, the coaches are not licensed as therapists. On the site, the coaches are displayed as individuals with backgrounds in psychology and sociology. A lot of them have degrees in these fields, while others are still pursuing them. However, these persons are not certified therapists, and the company does not say how they are qualified to handle such responsibilities.
Additionally, the charges per minute add up quickly and can be expensive for clients. Thus, compared to other therapy sites, these rates are quite steep. The subscription model is slightly cheaper but still high compared to what other online therapy platforms charge.
Furthermore, you cannot choose your coach. Even though they have provided the coaches' profiles, there's no option for clients to choose whom they want. Preference is important, and clients prefer having the ability to select a helper that they are more comfortable to work with.

Final Thoughts
RelationshipHero is a great service to use when seeking assistance with friendships, marriage, and dating. Also, it is excellent when you need advice on how work relationships should be treated. The company has a team of experienced and caring coaches who can help individuals manage their current and future relationships.
However, you might want to consider taking relationship therapy from certified therapists before deciding on this site. There are chances you will find a therapist offering a 7 day trial period for their services.
The service is unique because you can find almost instant assistance after you sign up, which is quite rare. Furthermore, the site has many provider reviews from customers, which implies that its experts are good at what they do.
The platform is a great place to turn to when you need urgent advice from a relationship coach. The experts respond quickly, and you will not have to wait long for assistance. However, be ready to spend some money if you select the site as a long-term solution.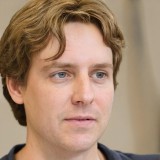 Matthew MacDonald
Matthew is an experienced and passionate BIPOC and inclusivity mental health expert. They are also a blogger, speaker, and relationship coach. Matthew helps people practice self-love and find mental and emotional peace through simple, practical tips and resources.
Read more
Best Online Therapy Services: