E-Therapy Review

E-Therapy: Comprehensive Review 
Pros: 
✅ A user-friendly website that is easy to use
✅ Convenient pricing options
✅ Wide range of licensed therapists with broad expertise 
✅ Website encryption and firewall technology that enables safe messaging between clients and counselors
✅ High level of confidentiality
✅ Great online reputation
✅ No membership fee, you can pay for each session
Cons:
💥 Not all insurance companies can collaborate with this platform to cover the expenses
💥 Response time might vary
💥 Therapists are not allowed to prescribe medications
💥 No mobile app is available
Nowadays, there are so many people who face emotional challenges and mental health problems. This is why counseling became pretty popular as it allows a person to have therapy sessions with a qualified therapist who will be instrumental on their path to improved emotional well-being. 
Unfortunately, regular face-to-face sessions might not be an option for everyone. First of all, it's pretty expensive and it's not that easy to find spare time and commute to the doctor's office. Therefore, online services that offer therapy services are gaining momentum. It's worth noting that usually price for an online session is significantly less pricey and, what's even most important, it's possible to connect with a counselor no matter where you are. E-Therapy online is one of a myriad of counseling services available today. 
In this article, you will find an unbiased review on the E-Therapy platform so you can make the right mental healthcare decision and opt for the best service that will enable you to solve your emotional challenges. 

Pros and Cons of
E-Therapy Services
Before you will get a comprehensive review of this platform, take a look at its main pros and cons that will play a crucial role in your decision-making process. 
Reasons You Should Use E-Therapy: 
A user-friendly website that is easy to use;

Convenient pricing options;

Wide range of licensed therapists with broad expertise; 

Website encryption and firewall technology that enables safe messaging between clients and counselors;

High level of confidentiality;

Great online reputation;

No membership fee, you can pay for each session.
Reasons You Shouldn't Use E-Therapy
Not all insurance companies can collaborate with this platform to cover the expenses; 

Response time might vary; 

Therapists are not allowed to prescribe medications;

No mobile app is available. 
Taking into account all the characteristics described above, it's possible to say that this platform is a good choice for those who seek professional therapy and want to improve their mental health condition. The service combines all the crucial features that most users are looking for. Therefore, you can feel free to consider this website and try it out.  
General Overview of
E-Therapy Counseling
E-Therapy is a UK-based online therapy platform that is designated for people who are looking for emotional support and guidance, want to solve mental problems via secure video sessions. It will be a nice option for those who want to connect with qualified specialists in the most flexible and convenient way. This service enables clients to have live video sessions at any time from any place as they can use their devices to communicate with counselors. 
There is no more need to commute to a therapist's office, waste time in waiting rooms, and have access to a wide pool of licensed therapists for your best comfort. The platform was created to help people receive qualified treatment of plenty of mental and emotional problems which is priceless nowadays. Mental health care is delivered in the most secure and confidential way so clients can be certain about their privacy and data safety. 
User Experience
The website is very simple and straightforward. You will be able to find all the important and helpful information with ease. The site is simple to use and it's very user-friendly so people of different ages can use it. 
The sign-up process will take a few steps only and you can already start benefiting from the platform, book sessions, and meet with a therapist via the most basic video messaging services.  
It's worth noting that there is no mobile app available. However, you can log in to your account through your mobile browser and start your session from a smartphone or tablet. 
How Does
E-Therapy
Work? 
The first step will be the registration process that will take up to a few minutes only. All you have to do is to provide the basic information. Once you sign in to the new account you can start choosing the desired therapist you would like to have a session with. After you decide on a specialist, you will be able to see more detailed information and book your first session. 
You can easily check out their qualification, experience, and education to make sure you will connect with the right expert to whom you can trust all your deepest thoughts and share everything that bothers you. Then, you will be redirected to the therapist's schedule to check out their availability and book the most appropriate time for a video session. Only after you select the desired date and time you will be directed to the payment page to finish the booking process. You can pay with your debit or credit card. 
Shortly after the payment, you will receive an email that confirms your appointment. In addition, you will also receive an email reminder so you never forget about the upcoming session. On the session day, you have to log in to your account and join a video session from your dashboard. Then a therapist will connect to you and you will be able to start.  
About Therapists On Board
On this website, you will have a perfect opportunity to connect with the most qualified therapists. Before they are hired, they are going through a rough background check and selection process based on the experience, expertise, and qualification. It means, only the most experienced therapists with all the licensure needed will connect with clients. 
All professionals are members of the BACP (British Association of Counseling and Psychotherapy) or BANT (British Association for Applied Nutrition and Nutritional Therapy). Sessions are completely confidential as counselors always adhere to strict ethical professional guidelines. 
What
Mental Health
Problems Can Be Treated with E-Therapy
Basically, you can turn with any concern you have, and the therapist assigned will come up with the most effective treatment plan. However, here is the list of the most common mental health problems that people can solve with this service: 
depression;

anxiety;

eating disorders;

insomnia;

substance abuse;

PTSD;

stress;

grief;

loss;

psychosis;

family or relationship problems;

trauma;

self-esteem problems. 
The platform offers a wide range of therapy types to satisfy personal needs and offer a customized approach for better results. These types include child therapy, couples therapy, behavioral therapy, family therapy, group psychotherapy, and so many more. 
About the Pricing Policy
The main thing to mention about the pricing policy of the E-Therapy platform is that there are no monthly subscriptions or membership fees. It can be the most convenient option. The pricing is pretty reasonable. 
There are two session types that last 25 and 50 minutes respectively. The brief 25-minute costs £35.00. If you are willing to keep connecting with a therapist on this platform you can pre-pay 5 sessions in advance with a small discount for £160.00 (£32.00 each session). 
Speaking of the 50-minute conversation with a therapist, it will cost £65.00 per session. You can also pre-pay 5 sessions beforehand and it will cost you £300.00 (£60.00 each visit).
In case you want to cancel your session, you will get a full refund if you cancel the visit 48 hours before the appointment. If the cancelation happens within 48 hours then the refund won't be available. If a therapist wants to cancel the session, it's possible to reschedule or get a full refund. 
Final Words
Summing it up, this platform is certainly worth your attention. Though there is no mobile app that most people would love to use, it has a pretty user-friendly website for effective online sessions. You will be able to connect with an experienced licensed therapist and work on your mental problems. You can always stay in touch with counselors, however, their response time might vary based on their schedule. 
The main thing to remember is that our mental health is very important and it's crucial to take care of it. We get pretty often overwhelmed with our life events and sometimes it can be too much for us. No matter what you feel, online therapy will help you get back on track, improve your mental condition, solve interpersonal problems, traumas, or anything else that held you back from living a healthy and fulfilling life. 
If you, your friends, or your family need professional support then don't hesitate to give online therapy a try. This is a proven and convenient way of connecting with specialists who will offer you effective treatment and qualified guidance that will help you get through the most challenging periods in your life. 
We hope that this E-Therapy review gave you all the information needed about this platform so you can consider all pros and cons and start using it right away. Remember that your well-being depends on you and it's the perfect time to start your journey to a better version of yourself.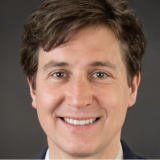 Daniel Perry
Daniel is a licensed Clinical Psychologist and cognitive behavioral therapy practitioner. Daniel helps his clients overcome a variety of mental health problems, including depression and anxiety. He also writes about mental health in his blog and helps us review popular online therapy platforms.
Read more
Best Online Therapy Services: