PrestoExperts Review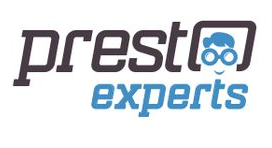 PrestoExperts Review: Does This Online Counseling Service Worth It?
PrestoExperts is a unique counseling service that is worth paying for. Because PrestoExperts platform hosts a variety of experts; customers have many options to choose from. By looking at the customer reviews and ratings, it is easy to identify the most suitable counselor to work with. The free chat gives more time for decision making as one gets to talk to the expert and decide whether to pay for a session.
The per-minute charges on the website may accumulate quickly, especially if one is engrossed in the session. However, licensed counselors use their expertise to make every minute of the session count. With 24/7 customer support availability and a variety of communication options, a favorable verdict on PrestoExperts is reasonable.
What Is Presto Experts? Find out All the Needed Info!
PrestoExperts is a directory of experts who provide services ranging from health to tutoring. As an online counseling service, it offers a platform for people to get virtual therapy anonymously. Sessions are not time-restricted, rather, the customer chooses how long to chat with the counselor.
Online counseling is good for anyone with privacy concerns. You get a psychiatrist to work with you anonymously. It is also a good option for people whose mobility is limited by disability or physical distance. Provided the specialists have valid licenses, their help is just as good as that offered in the traditional setting.
According to the PrestoExperts website, they have specialists to handle various mental health conditions. Among the conditions listed are:
Addiction;
Eating disorders;
Depression;
Personal development;
Relationship issues;
Personality disorders;
Religious issues;
Parenting issues;
Crisis counseling;
Cultural issues;
Identity crises;
Family issues;
Sexual issues.
Wondering how Presto Experts works? A customer browses the website for a suitable counselor. One can sort through the experts using various categories, including skills and prices. Once a match is identified, the customer gets a few minutes to chat and determine whether to pay for a session.

To converse with a counselor, customers have several options. The first one is to use the live chat button on the website. As PrestoExperts platform offers a free chat for interview purposes, one must click the Hire Expert button to begin a session.
Customers may opt to get therapy via email. A session is initiated by emailing a query to the counselor who responds with a price estimate. If the customer accepts the estimate, the counselor emails back a detailed answer to the query.
Therapists who accept phone calls indicate it on their profiles. If the Call Now button is active, a customer may initiate a session. The call logs are archived by PrestoExperts for access at a later date if need be. The only downside to this mode of communication is that it is not available to customers from all countries.
Does PrestoExperts Have Licensed Mental Health Professionals?
Presto Experts only hires licensed counselors to work on PrestoExperts platform. They verify the identity and certification of each professional applying to join the company. As a result, customers get access to high-quality mental health services from experienced counselors.
The counselor reviews on the website speak volumes about the quality of service offered at PrestoExperts. PrestoExperts does not edit provider reviews or allow counselors to delete feedback from their profiles.
According to PrestoExperts, there are 1500 licensed counselors available. Out of these, a customer may choose one of the following categories.
New Experts
This category has counselors who have recently started working with PrestoExperts. Because they do not have many reviews, customers must be careful to ensure compatibility. One should use free chats to confirm compatibility.
Top Rated
Experts who are ranked highly have tons of counselor reviews and great scores. They have worked with most patients at PrestoExperts, so they have a lot of experience. However, their prices per minute are higher because of this fact.
Available Online
This category only shows which counselors are available for a session at the moment. Regardless of qualifications, any PrestoExperts counselor who is not online will be omitted from the results if you select this filter.
Available for Calls
If you need to talk to someone right away, this filter makes your work easier. It shows counselors who are available for phone calls at the moment. All you have to do is initiate a phone call for the session to start.
Lowest Price
All the counselors on PrestoExperts have different rates. The most experienced therapists are expensive, but they occasionally give special offers at low rates. Checking in the lowest price category from time to time is the only way to find a good deal.
How to Use The Presto Experts Website
The PrestoExperts website is fairly easy to navigate. The homepage is divided into sections based on the different services offered. Under the online counseling category, customers find quick links to PrestoExperts's top-rated experts. One may also select the specific issue they need help with, and find suitable counselors who specialize in that area.
Create an Account
To create an account at Presto Experts, no payment is required. First-time customers may sign up anonymously or use their Facebook accounts. There is also the option of using an email address and a custom password. Provided you are 18 years old, you can sign up and browse through the website for free.
To sum it up, you may use one of three options to create a PrestoExperts account:
Sign up using email and custom password;
Sign up via Facebook;
Sign up anonymously without a screen name.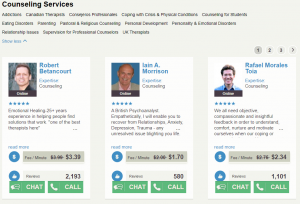 Sort Experts
There are several categories of therapists at PrestoExperts. Use any of the filters on the top right corner of the page to sort through the experts. The availability of each counselor is indicated next to their profile.
Check Profiles
Once you find a few therapists that are in your desired category, it is time to check their profiles. The counselor profile has a personal summary, qualifications, valid licenses, rate per minute, and customer reviews. You can trust the counselor reviews on the profiles because PrestoExperts does not edit or delete any feedback from clients.
Chat for Free
The live chat feature is offered by all counselors on PrestoExperts. To decide whether you want to hire a certain therapist, PrestoExperts gives you a few minutes to chat before the timer starts running. During these few minutes, you get to ask all questions and decide whether you want to proceed to a paid session.
Hire a Counselor
If you are convinced that the counselor you have spoken to is the right person for the job, you can hire them. The timer begins running when you select the Hire Expert option. The phone sessions are billed in the same way, but emails use a one-off price. The counselor quotes the price, and you must accept it for your session to begin.
PrestoExperts App Availability
At the moment, there is no PrestoExperts app. All services are accessible via the website. You may use any browser on your phone to log into PrestoExperts and initiate a session. There is no special software needed to access the service. All you need is a device and a strong internet connection.
Presto Experts Price, Free Trial, and Promo Code
What is the price of a counseling session at Presto Experts? The service does not have a fixed cost. Sessions are billed per minute. In the case of live chat sessions, the timer starts running when you click on Hire Expert and stops running when you click on Quit Session. The timer is visible during the session so that you stop whenever you need to.
In the case of phone calls, you are billed from the start of the conversation to the end. A call log is saved by PrestoExperts for future reference. Paying for phone sessions is similar to paying your phone bill after having an ordinary conversation.
For email counseling, there is a one-off payment. When you send your counselor an email, he or she responds with a price quotation. It is up to you to check whether the price is fair and let your counselor know if you are willing to pay for it. The session starts after you give consent.
PrestoExperts has a free trial for customers using the live chat option. Signing up on PrestoExperts is free. Once you identify a suitable counselor, you get three free minutes to chat with him or her. The timer will not run unless your three minutes are up and you consent by selecting the Hire Expert option.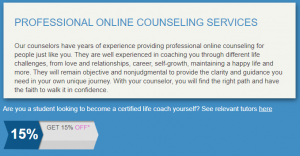 Because the PrestoExperts email and phone options do not have a trial period, it is advisable to use them with a counselor you are familiar with. Using these methods with a new counselor can be risky especially if you end up being incompatible.
What happens if you do not benefit from your session? PrestoExperts has a refund policy. If you launch your complaint within 72 hours from the session, you can get your money back. Granted, the company has to review the session logs to verify your complaint. Knowing that there is a refund policy, you can confidently use the online counseling service.
To pay for a session at PrestoExperts, you can use VISA, Master Card or PayPal. Since the bill is calculated during the session, you can only pay once it is complete. PrestoExperts does not demand any down payment, registration fees, or membership fees.
PrestoExperts Customer Support
Presto Experts use a ticketing system for customer support access. If you have a query that needs to be answered, you should head over to the service center and get a ticket. A customer support agent will be in touch shortly to address your concerns. PrestoExperts claims to have agents online 24/7, so it means you will always get help whenever you need it.

The PrestoExperts website is quite helpful in answering most service-related questions. All the information on pricing, benefits, and counselor categories is readily available on the online counseling home page. If you take the time to go through the information on the PrestoExperts website, you might find answers to your questions.
Prestoexperts Review: The Verdict
PrestoExperts is an online counseling platform that caters to a variety of needs ranging from eating disorders to anxiety and depression. It enables access to a psychiatrist via live chat, email, and phone from licensed counselors. Since the rates are charged per minute, customers have control over how much they get charged for a session. With an easy to use the website and reachable customer support, PrestoExperts is certainly worth trying out.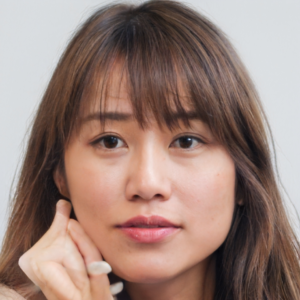 Cassandra Ardoin
I have a Master's and a Ph.D. in Counseling Psychology. I have 20 plus years of experience helping people solve problems of stress, anxiety, and depression associated with relationships, spiritual and changes-in-life issues, addictions, incarceration, emotional, physical, and sexual abuse
Read more
Best Online Therapy Services: