Best Online Therapy Platforms 2023
Dr.Mental already tested and compared providers to help you make the best decision.
Looking for anxiety counseling, emotional support, therapy for depression, or mental health help with any other issues? Dr.Mental already tested and compared platforms to help you make the best decision.
Our Top 10 Picks for the Month
Why Is Online Therapy a Convenient Solution?
The web has changed everything about our way of life. Now, you can easily access online counseling from your laptop or smartphone. You can get the help you need anywhere, anytime.

Working with a licensed counselor online means no need to travel to visit the therapist's office. It means arranging a session in the morning, evening, or during lunch break and saving your time and money.

Also, online therapy gives you the freedom to find a therapist who best meets your needs. You can continue getting support from them even during vacation or illness.


---
Several studies have shown that online therapy is as effective as or even more effective than in-person therapy for mood and anxiety disorders.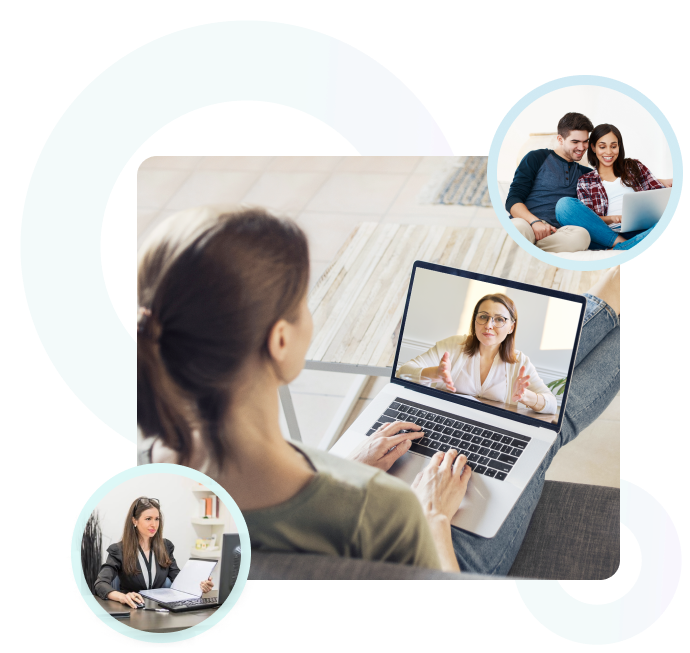 FAQ about Online Therapy
All information, rankings, and reviews on this website are based on a thorough analysis of each platform, customer success stories, feedback from professional therapists, and our team's experience.
Yes. Therapy sites vet only licensed, trained, and experienced mental health professionals.
Each of the above sites takes serious steps to keep information protected and maintain your confidentiality.
Yes! Face-to-face treatment can cost you $100-$200 per session, while online therapy — only $65-$90 per week.
Sign up and get matched with a therapist. Schedule sessions & talk with them via chat, video, emails, audio.
It's a fit for people who want to cope with mental health problems & improve life. Still, there are some limitations.
Usually, no. But e-therapy is much more flexible — you can get help considering your & your therapist's schedules.
What Is Therapy At All?
Therapy is a powerful tool that can help us change the way we deal with our problems, think of ourselves, and build relationships with others.
It's usually the first-line treatment that helps you cope with and overcome emotional problems and make positive changes in your life.
Therapy is one of the best ways to care for your mental health. With the guidance of a licensed mental health professional, your efforts, and the best therapies methods, you work in an atmosphere of full acceptance and support. You can share your thoughts, feelings, and emotions and feel understood. It can help build focus and get you closer to your goals.
Therapy can take place face-to-face or over the Internet.
What Is Online Therapy?
Online therapy is a web-based form of provision of therapy or counseling services. It involves a therapist and a client having sessions through the Internet.
There are many online therapy platforms today. For example, TalkSpace, Calmerry, BetterHelp, etc. They provide a safe, unbiased environment where people can work through their problems and get help and support from mental health professionals.
You can find some of the best online therapy providers on our website!
How Does Online Therapy Work?
Online therapy and counseling websites use various communication means:
Asynchronous and instant messaging
Emails
Online chats
Video calls
Phone calls
Media sharing
They aim to provide an experience as close as possible to the traditional face-to-face visits. But online counseling services are more accessible. It does not require a client to visit a brick-and-mortar office. They can find an online therapist or get matched with them easily — on websites and apps.
A mental health professional can also reach out to the client whenever they need it from any device.
Does Online Therapy Really Work? Is It Effective?
Online therapy can be just as effective as in-person. This is the finding of several studies. For example, a proved that online cognitive behavioral therapy (iCBT) is as effective as a face-to-face treatment for depressive and anxiety disorders.
Web-based sessions are a solution for many people. It allows them to text and talks comfortably about the most personal thoughts, emotions, and feelings without the fear of judgment. They can get the support they need by joining the best online therapy 2022 platforms we compiled on this website.
Mental health professionals can easily help clients to make positive changes in their lives and find inner strength.
The important step is to find your best online counseling platform/app.
Important: e-therapy is not for everyone. If you or your loved one need immediate help, reach out to emergency numbers or sites.
What Are The Differences Between Face-To-Face Therapy And Online Therapy?
Firstly, the cost could be different. Usually, even on the best online therapy sites, the price is cheaper. Face-to-face therapy is more expensive, and you spend more time and money commuting to the office.
Secondly, you need to take time off work or your home duties to get to the counselor's office. Getting help online is wherever and whenever comfortable for you.
Thirdly, the form of communication. During face-to-face meetings, you and your therapist can see body language and recognize the most subtle cues of each other. If it's text therapy, it could be more difficult to do it. That's why many prefer video calls. Video sessions usually last from 30 minutes to an hour.
However, text counseling gives you more time to reflect, and you don't have to remember everything discussed — it's all on your device.
What Are The Disadvantages Of Face-To-Face Therapy?
The disadvantage of face-to-face therapy is that it may be costly and time-consuming for those who don't live near a mental health professional or have limited scheduling options.
Also, clients have to schedule the appointments in advance, which can be a problem due to the busy lifestyle and a counselor's workload.
Besides, it can be difficult for people who live in remote areas — therapists are not always available nearby.
Therapy websites provide more flexibility and accessibility in these matters. However, e-counseling may not be an appropriate option for people who need more intense health care and attention.
What Are The Benefits Of Online Therapy?
Accessibility, affordability, and convenience are some of the recognized features of online therapy. These prove various online counseling reviews.
Online therapy provides greater privacy and anonymity
It saves time and money
It can be useful for those who can't talk about their problems with a clinician in-person
It's an effective way for people who are remote or unable to travel to get the help they need without having to leave their houses
It makes it easier for people with unpredictable schedules to get support and treatment
It also helps people who live in remote areas where there are few or no mental health professionals available
It makes it easier to access the best therapy sites — all you need is your favorite device and the Internet.
It's an accessible way for anyone to care for their mental health anytime
Is Online Therapy Secure And Confidential?
Online therapy is a secure alternative to in-person sessions. You can use nicknames, and there is less risk of in-person meetings with other clients. This ensures your confidentiality.
Besides, to make online therapy as safe as possible, all — best therapy sites and less popular ones — use high-end encryption and privacy tools. Also, they abide by the widely-adopted standards for the protection of sensitive information (i.e, HIPAA, HITRUST CSF).
What Do I Need To Know Before Choosing Online Therapy?
Online therapy is not an absolute replacement for face-to-face therapy. And if you need more intense mental health care, are in crisis, have a severe mental health condition or self-harm or suicidal thoughts, choose appropriate help.
Still, e-counseling can be used as a good alternative for many people who can get help with many emotional issues and just care for themselves.
Your first job is to choose the best online therapists and platforms that suit you. It's easier after reading our 30+ online therapy reviews.
Frequently Asked Questions About Online Counseling Services
Is Counseling Online As Effective As Face-To-Face Therapy? Which One Is Better?
Yes, e-counseling can be as good as in-office. However, it's not uncommon for people to prefer one form of counseling service delivery over another. It depends on the person and the goal of counseling.
Web format may be better for people who are not able to see a counselor in-person or someone who has a busy schedule. For others, meeting a mental health professional face-to-face is more effective or even necessary.
The ultimate way to determine which form is the best for you is to try. Meet a counselor in-person or search for the best therapist websites. Know what you want from counseling and what your problems, preferences, and needs are.
Is Online Counseling Safe?
Yes, online counseling is safe. It involves two people: you and a counselor. Your safety is always the first priority for both of you and also for your top therapy site.
Online therapy software must be equipped with built-in features that ensure your safety and protect your information.
Also, Internet counseling services are the same sessions with a licensed mental health professional who strictly abides by the Code of Ethics.
How Does Relationship Counseling Work Online?
There are many families, couples, and individuals who can't meet with a relationship counselor in-person. Online counselors provide help and support through the Internet, ask questions to help people understand what might be going on, and give them guidance, insights, and strategies to help them get through relationship challenges.
So, web-based relationship counseling works perfectly the same as face-to-face counseling, although remotely.
One of the most important points is to read the best therapies reviews and pick a relationship counseling site/app that suits you and your loved one.
Is Online Relationship Counseling Effective?
Online relationship counseling can be a very helpful tool for all people. It can be accessed anywhere and is available on any device. People can just read some therapy site reviews to choose the one or join their counselors' websites to have sessions.
People who used online relationship counseling said that they felt more understood, heard, supported, validated, and like the counselor really cared about them. This type of counseling not only helps individuals but also helps couples and families who are struggling in their relationships or lives in general.
Frequently Asked Questions About Therapy Cost
How Much Does Therapy Cost?
Price is an essential aspect of teletherapy reviews. In face-to-face sessions, the costs are higher due to the overhead expenses, such as rent, commuting, insurance, etc.
As for the cost of e-therapy, it's usually lower. However, there's no set price. All platforms, apps, and websites establish their own prices for online therapy services. It depends on the form of counseling (text, video, phone), duration, packages offered, etc.
On average, top therapy platforms charge $65-$80 per week.
Is Online Therapy Worth The Money?
Yes, according to many client reviews and professional insights. They say that web-based therapy is a more affordable and convenient alternative to traditional in-person treatment.
The anonymity factor, accessibility, and convenience of online sessions make it worth the money for many people with busy schedules or those who need access to a global list of mental health professionals.
Where Can I Find Online Therapy Sites With Free Therapy Services?
There are some free online counseling chats with volunteers and peer groups. It can be an option for those who need emotional support or have a listening ear. However, such help is usually not provided by the licensed mental health professionals.
If you want to get professional therapy services for free, you can look for free trials on the platforms.
Frequently Asked Questions About Therapy Sites
What Is Teletherapy On Sites?
Teletherapy is the same as online therapy — it's the provision of counseling services via the Internet, from anywhere in the world. The client and therapist can communicate by phone, audio, video, emails, or text messages on digital platforms, apps, chatrooms, websites for therapists, etc.
What Do I Need For Teletherapy On Websites And Apps?
First, you should define the best online therapy 2022 for you and choose the platform.
Second, you should ensure that the site can deliver counseling services to you. Check the age and residence requirements and whether the platform can fulfill your needs.
Also, one of the most important aspects of e-therapy is having a stable Internet connection, device, microphone, and video camera if needed.
Is Online Therapy Legit On Sites/Apps?
Absolutely, since e-therapy is a digital form of talk therapy that uses the media to provide professional, evidence-based therapeutic services.
Online therapy is not a replacement for in-person treatment, but it increases the availability of mental health care and reduces the stigma.
Frequently Asked Questions About Insurance
Does Insurance Cover Online Therapy?
Since teletherapy grows in popularity worldwide, and more and more people turn to it, insurance companies reconsider their policy on coverage for this type of health care.
So, yes, some insurance providers do cover online therapy. However, others don't cover it at all. So before considering online counseling services, check with your insurance provider what they cover and what they don't.
Luckily, the cost of teletherapy is quite affordable, allowing people with financial challenges to get professional support and care.
Are There Any Online Therapy Sites That Take Insurance?
Yes, there are some sites that accept insurance. You can find this information directly on the websites or by reading online counseling reviews here.
Note that a lot depends on your insurance provider, so you should check this matter with them, too.
How To Get Therapy Without Insurance?
You don't have to have insurance to get counseling services. Many of the world's best sites offer support for affordable prices. Just choose the package or subscription plan that suits you.
In our reviews, you can find out all about the costs and insurance policies.
Frequently Asked Questions About Mental Health Professionals
How To Choose An Online Therapist?
There are some important steps to take when choosing the best online therapists:
Check that the therapist is licensed and has professional qualifications
Choose therapists with relevant experience and training
Check therapists ratings
Learn about their best therapies methods, modalities, and tools they work with
Make sure they specialize in the issue you want to work on
Engage in the first session to get to know each other better
Usually, you can get your mental health professional on therapist websites or get matched with them on online therapy platforms. Top therapy sites allow you to indicate your preferences to get the best match.
Anyway, choose the expert you're comfortable with. Start the first session to know whether you suit each other.
Are Online Therapists Legit?
Absolutely. While you might not be seeing your therapist face-to-face, you will work with a licensed and trained mental health professional as you would in-person. The only difference is that the format of communication is web-based.
Best online counseling services, apps, platforms, and websites hire only licensed and vetted mental health professionals. Technologies made it easier for them to start online practice and help clients get the help they need.