Tokitus Review

Tokitus Review: Is This Online Therapy Service Suitable For You?
Tokitus is growing quite popular, despite being relatively new to the world of online counseling. According to the company's website, its mission is threefold. To provide therapy that's:
Affordable

Clear-cut

Connected to specialists that leave no doubt about their expertise
So, we've conducted an unbiased review to determine whether Tokitus makes good on its promises. Our findings prove that the platform delivers on some fronts but could be better on others. 
Pros
✅ Highly qualified therapists
✅ Convenient pay-as-you-go pricing
✅ Address a wide range of mental health issues
Cons
💥 Does not accept insurance
💥 Not many therapists to choose from
About Tokitus
Founded in 2020 to make mental health care a habit, Tokitus is one of the fastest-growing online counseling platforms. The platform's founder is Ulvia Avidan, a licensed psychotherapist with 13 years of academic and nine years of professional experience in the field. 

Together with Natan, an entrepreneur with 9+ years managing customer-oriented IT businesses, and Sergej, a chief technology officer with 13+ years in building secure IT solutions, the platform's founder is on a mission to provide a better kind of therapy. 
How Tokitus Works
Tokitus online therapy is available in 14 languages. The company is headquartered in Lithuania but is accessible to people throughout Europe and the U.S. Users get access to messaging to schedule their session and can get therapy through audio or video on the website. 
Here's how you can access therapy through the platform. 

Step 1 – Registration
When you get started on the platform, you're given two choices:
Take a comprehensive quiz, get insights into your mental health state and pick a therapist. 

Skip quiz and choose a therapist
If you skip the quiz, you'll choose an area you'd like to discuss first and get matched with several therapists who are proficient in that area to choose from. 
If you decide to take the quiz, you'll answer several questions about how you've felt recently. 
The questions are centered on whether you've experienced extreme sadness or anxiety in the past two weeks to three months. You're also asked about your interaction with others, frequency of drug use, and decision-making capabilities. 
At the end of the quiz, you get to choose which areas you'd like to work on first and the language you prefer to use during therapy. 
Step 2 – Create an Account to View Your Results
Give a name, real or fictional. You'll also have to give an email address where you'll receive updates and session details. 
The results of your quiz reveal your mental health status based on several aspects:
Depression

Anxiety

Drug use

Self-esteem
Each aspect is ranked from mild to severe, with an accompanying explanation. 
Step 3 – Choose a Therapist
At this stage, you get several matched therapists that may be perfect for you. You're allowed to choose one and select the most convenient time for your first session. 
While the platform curates a list of therapists who are experienced in the area you've selected, it's up to you to select the one you feel will be a good fit. 
When you book a session, you'll receive a confirmation via email with session details. You'll also receive a reminder 24 hours before the session. 
Step 4 – Get Started
Log in to your account on your desktop or mobile device. Choose whether you want an audio or video session. Your therapist will be waiting for you to join the session. 
If you feel like your therapist isn't a good match, you can always choose another for your next session. 
Mental Health Issues Treated By Tokitus
Although the platform doesn't display a definitive list of the issues their counselors can treat, each profile description has some specialty areas. Plus, when you register, you're allowed to choose which areas you'd like to deal with first. 

Based on our survey of therapists' profiles, Tokitus mental health services the following conditions:
Stress

Anxiety

Depression

Phobias

Sleeping disorders

Obsessive-compulsive behavior

Anger 

Low self-esteem

Addiction

Eating disorders

Trauma

Family issues

LGBTQ+ counseling

Loss and grief

Parenting

Life transitions

Body image issues
To treat these mental health issues, therapists at Tokitus have additional methodological training on various techniques. Some of the treatment techniques they use are:
Cognitive Behavioral Therapy (CBT)
CBT is a type of psychotherapeutic treatment centered on identifying and changing destructive thought patterns that influence one's behavior and emotions.
All types of CBT work to address underlying thought patterns that contribute to psychological distress. This technique effectively treats a wide range of conditions, including addiction, anger issues, anxiety, depression, phobias, panic attacks, and eating disorders, among others. 
Therapists that use CBT guide you to journal, role play, use relaxation techniques, and rely on mental distractions to break the negative patterns.  
Family Systemic Therapy
Family therapy enables family members to explore difficult emotions, understand each other's experiences, and appreciate each other's needs. It is a technique that builds on family strengths to improve their relationships and quality of life. 
Family systemic therapy effectively treats addiction, difficult life transitions, career challenges, grief, and family conflict. Well-trained family therapists use their skills to foster teamwork and problem-solving in the family unit. 
Gestalt Therapy
Gestalt therapy is a person-centered psychotherapeutic technique focused on one's present life and challenges rather than exploring past experiences. It stresses the importance of understanding the context and taking responsibility rather than placing blame. 
This technique is used to treat anxiety, depression, low self-esteem, and relationship problems.  It helps one to develop a tolerance for negative emotions, regulate stress, and improve self-control. 
A therapist trained in this technique will use role-play, body language, and "I feel" statements to improve one's perception. 
Existential Therapy
Existential therapy attempts to help you find meaning and purpose in your life. It explores the unknown to answer existential questions and overcome fear. It is an empowering technique that can improve decision-making capabilities. 
Your therapist will guide you to find your reason for being and maximize your existence. The technique is useful in helping you discover your life's purpose and aligning simple everyday activities to give you satisfaction. 
Existential therapy can treat various conditions, including anxiety, depression, addiction, and post-traumatic stress disorder.  
Conditions and Services Not Provided By Tokitus
Online therapy is proven to be just as effective as traditional therapy. Plus, it is more convenient and accessible to everyone regardless of location. However, online therapy is not always a good fit for everyone. 
Tokitus is not a good fit for you if you: 
Are in an emergency situation

Have suicidal ideation

Are planning on hurting others

Need medication

Have a severe medical condition

Are under 18

Don't have a desktop, mobile device, or a stable internet connection
How Much Does Tokitus Cost?
Tokitus is a pay-as-you-go service. You won't need to pay a subscription fee—each session is paid for separately. Therapy costs 50 Euros per 45-50 minute session. 
The amount is charged to your credit card 12 hours before your next scheduled session. Cancellations up to 24 hours before the sessions are not penalized.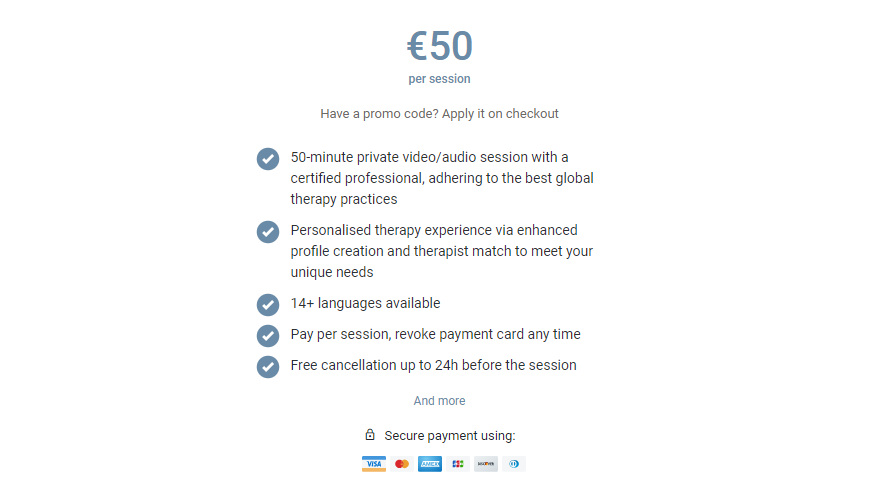 If you're not satisfied with your session, Tokitus therapy guarantees a 100% refund. To use this guarantee, you'll reach out to the customer support team and have the money refunded to your card. This guarantee only applies to your first session. 
What Are The Qualifications of Therapists on Tokitus?
When you get a pool of matched therapists to choose from, you can click on the "more about therapist" tab to know everything there is about each one. Among the details indicated on the profile are:
Specialties

Rates

Education

Language proficiency

Personal statement
All therapists have specialized in different areas of psychotherapy. Some of the qualifications in their profile descriptions include:
Ph.D. in Psychology

Master's Degree in Philosophy, Psychotherapy Sciences, and Psychology Sciences

Bachelor's degree in Psychotherapy Sciences, Practical Psychology, and more. 
In addition, they are licensed professionals. Some have undergone additional training to become specialists in trauma therapy, family therapy, and more. 
Tokitus reviews the experience and educational qualifications of each service provider before allowing them to use the platform. To ensure high therapy quality, Tokitus requires every therapist to have:
A bachelor's degree in psychotherapy or psychology

At least four years of clinical or counseling experience

Additional training in therapy techniques such as Cognitive Behavioral Therapy, Gestalt Therapy, and Family Systemic Therapy among others 

Prior experience in online counseling

Integrity and Transparency
Verdict — Is Tokitus Therapy For You?
Tokitus may be a good fit for anyone looking for a counseling platform with rich diversity. Their counselors are from all over the world and are skilled in treating several conditions. 
The platform is also perfect for people who'd rather not subscribe to a service for months. It allows you to pay for each session separately and discontinue whenever you want.
However, if you're in a crisis or needing prescription medication, you'll have to seek out a therapist near you.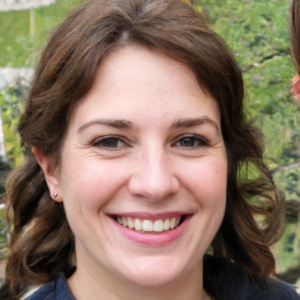 Catherine Cain
I am a licensed Marriage and Family Therapist (LMFT) that specializes in early childhood disabilities from attachment disorders, ADHD, autism, oppositional defiance disorder, asperger's, anxiety, depression, etc. to adult disabilities including depression, bipolar, borderline personality disorder, anxiety, and more.
Read more
Best Online Therapy Services: