Brightside Review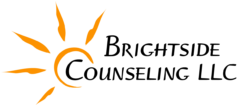 Brightside Review: Comprehensive Online Anxiety & Depression Treatment
Anxiety and depression disorders are the most common mental illnesses globally. In the US alone, about 20 million people suffer from major depressive disorder, and about 40 million people struggle with anxiety disorders. 
There are many effective treatment approaches available to help people cope with these mental illnesses. For example: 
Talk therapy provides the mental support needed to overcome challenges and guidance to learn coping skills and develop healthy behavior & thought patterns. 

Medications are a popular treatment strategy to reduce the symptoms and lead a more balanced life.
But unfortunately, more than 75% of people with depression and anxiety don't get the proper health care. And with the onset of COVID-19, these rates are getting worse. 

However, such teletherapy services as Brightside come into play to try to change the situation and make the treatment more accessible and affordable. They provide people with professional medical help and mental support to cope with depression and anxiety. 
Brightside pros: 
✅ A comprehensive approach to treat anxiety and depression
✅ Online access to licensed healthcare professionals
✅ Custom-built tech for a precise Rx
✅ 24/7 unlimited text messages with a therapist licensed in your state
✅ Free access to self-care tools, materials, and resources
✅ Weekly check-ins with your doctor
✅ Medications can be delivered right to your door
Brightside cons: 
💥 Quite pricey
💥 Only 1 monthly video therapy session 
💥 Inability to reach out to your doctor from your side when you want it
💥 Medications shipping issues 
💥 Impersonal communication and treatment process 
💥 No app
💥 Unresponsive customer support
Brightside may be the right choice for you to improve your physical and mental health. What treatment does it provide? Can its holistic approach fit you? What are the clients' complaints? What are the prices? This review will help you make an informed decision.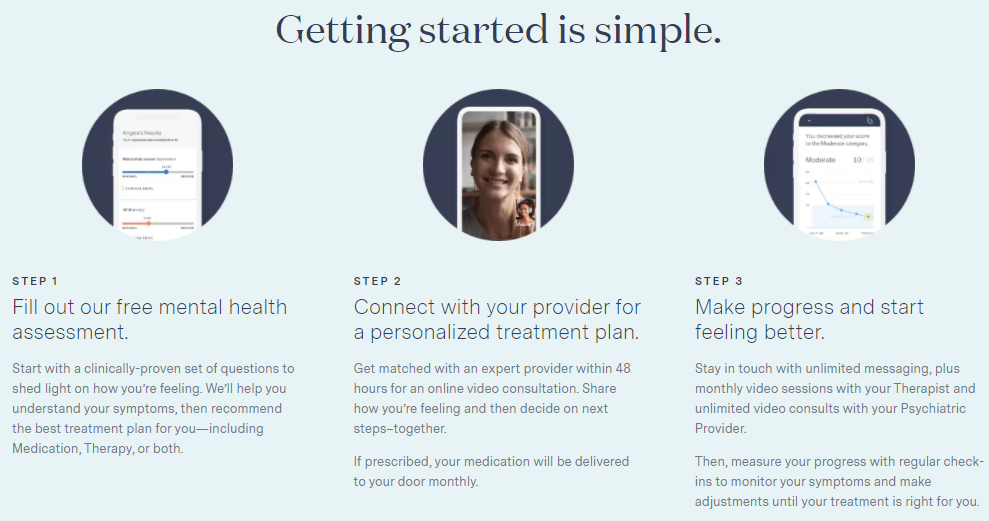 What Is Brightside? A Comprehensive Review of a Comprehensive Health Care Platform
Brightside is a telehealth company that operates since 2017 with the mission to reimagine anxiety and depression care. It provides a holistic approach to help adults suffering from symptoms of these disorders with 3 possible treatment plans: 
FDA-approved medications

evidence-based therapy

or both
The founders' idea was to create a platform that would deliver thoughtful and life-changing medical care at the level they'd like their family members had. 
Brightside Platform: Who Is It For?
Brightside offers evidence-based therapy and FDA-approved medications to those who are battling anxiety and depression. It may be the right choice for adults who need qualified help from licensed, background-checked mental health care providers. 
As anxiety and depression show up in different ways for every person, Brightside psychiatric providers and therapists specialize in treating the full spectrum of related conditions to ensure personalized and comprehensive treatment:
Generalized anxiety disorder

Seasonal affective disorder

Major depressive disorder

Panic disorder

Social anxiety

Insomnia

Phobia

PTSD

OCD, etc.
It's important to note that Brightside is a HIPAA-compliant platform. Only your healthcare provider can have access to your information.
Who Shouldn't Use Brightside?
Getting online help on Brightside is not a good fit for people with: 
ADHD

Suicidal ideation or previous suicide attempt 

Substance abuse problems

Self-harm behavior

Schizophrenia 

Bipolar disorder 

Borderline personality disorder

Eating disorders with high-risk symptoms

For a medication plan — people with kidney or liver diseases, long QT, seizures.
In these cases, see your provider in-person to get the right help you need.
What's So Special About Brightside? 
As Brightside states, the healthcare system isn't designed to provide people with anxiety and depression with the level of medical care and attention they require. So, they intend to change this and set a new standard of healthcare by delivering comprehensive, all-around treatment.  Brightside offers 3 main science-backed approaches in clients' plans for treating anxiety and depression: medication, therapy, self-care. 
Medications Approach
The medication approach on Brightside involves evaluation, diagnosis, personalized treatment plan, medication prescription, and treatment adjustment by psychiatric providers.  Brightside Psychiatric Team is a network of psychiatrists, physicians, psychiatric nurse practitioners, and therapists. They have several years of experience and full licenses to practice in your state. Matched Brightside doctors can prescribe antidepressant medication (SNRIs, SSRIs, etc.) using diagnostic tools relied on by healthcare providers and a trained tech model called Brightfinder™. 
Based on your telehealth visit (one video conference with a doctor) and their review of 100 data points of your clinical data, they match you with the FDA-approved medication that might work best for you. The technology is developed to provide personalized treatment and its right dosage and duration.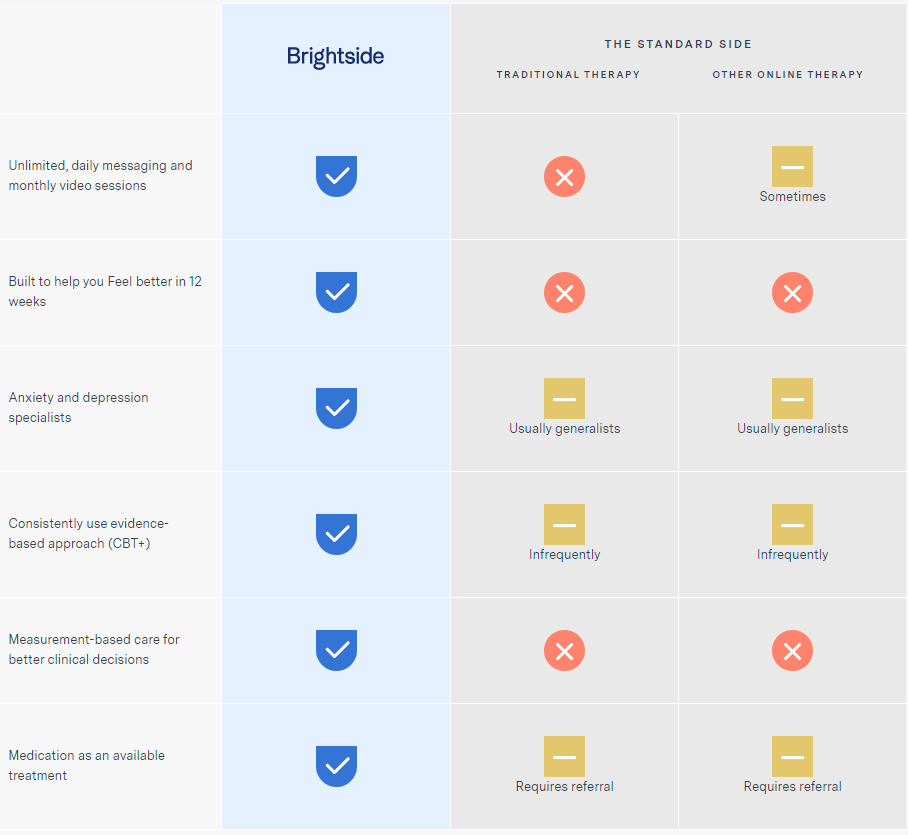 Brightside delivers medications right to your door every month. However, the service states that their doctors prescribe only if they're confident that the medications will be safe and effective. They don't prescribe any controlled substances. The full list of the medications you can find on their website.  
As you start your treatment plan, Brightside checks in with you every week in the Your Path™ app to monitor:
Your progress

Changes in your mood

Behavior and thought patterns

Possible side-effects

Symptoms
It allows your doctor to make changes to the treatment course until it's right for you to ensure the best results.  Medication treatment is currently available in 26 states. Please, check the website to find out if you can get help from Brightside. 
Therapy Approach
Brightside offers an online therapy approach to help you cope with anxiety and depression. It involves:
Evidence-based self-paced interactive audio lessons and exercises 

Support from a mental health professional
During therapy treatment, you can have private therapy sessions via unlimited text messaging and 1/month 30-minute live video call with a counselor. All of the Brightside counselors are fully-licensed in clients' states, background checked, and hold master's degrees or higher. They:
Create a personalized therapy treatment plan for you

Help you learn coping skills and healthy habits

Help you modify your behavior and thought patterns that keep you from being your best

Guide you in your way of overcoming anxiety and depression.  
As in the previous approach, you can report your progress, symptoms, and changes, what issues you experience, and what areas you'd like to explore more. Therapy treatment is currently available in 10 states. Please, check Brightside.com to find out if you can get help from a therapist from your state. 
Self-Care Approach
Brightside.com provides its members with powerful free self-care tools and resources. The self-care approach is an inevitable, ongoing part of treatment, either with the help of therapy or medication. 
For example, as a Brightside member, you will have access to the "Brightside Self-Care" course, a free 10-week program developed by their team of healthcare professionals to help you build the necessary skill set and nurture resilience to fight depression and anxiety. It includes video lessons and regular progress tracking to help you measure your progress. 
How Does Brightside Works? 
The journey to a fulfilling life with the help of Brightside all-around medical help and care lies in 4 simple steps. How to start coping with anxiety and depression and feel better? 
Fill Out Free Brightside Health Assessment
Firstly, take the Brightguide™ assessment about yourself. It's a set of 25 clinically-proven questions that will help shed light on how you feel and what the treatment plan — medication, therapy, or both — is right for you. Be sure to be as specific and honest as possible to make the evaluation more precise. 
At the end of the assessment, you'll get the results of your anxiety and depression levels with the custom-calculated points and in comparison with the clinical level. Also, the assessment will recommend to you the plan based on the results. 
Connect with Your Healthcare Provider and Discuss Your Personalized Treatment Plan
Usually, clients are matched with their providers within 48 hours to have an online comprehensive video consultation. For the medical treatment plan, the duration of these conversations is about 15-20 minutes. For a therapy plan, the first video call lasts 45 min. 
During the first teletherapy visit, you share all your feelings and emotions, answer and ask questions, review family history, and discuss your treatment plan and the next steps. 
Follow Your Care Plan and Feel Improvements 
If your provider prescribes you a medication, it will be delivered to your door in approximately 5-7 business days after your 1st consultation. Note that some delays during COVID-19 are possible. 
Stay in touch with your psychiatric provider or therapist through unlimited text messaging and monthly video follow-ups. Use self-care tools and practice exercises at your own pace.
Measure Your Improvements with Regular Check-Ins 
Report regularly what works for you and what has to be changed. Provide your healthcare professionals with the information about how you feel, what the symptoms are, what the changes in your mood/appetite/behavior you experience. This will help Brightside health professionals monitor your progress and make adjustments if necessary.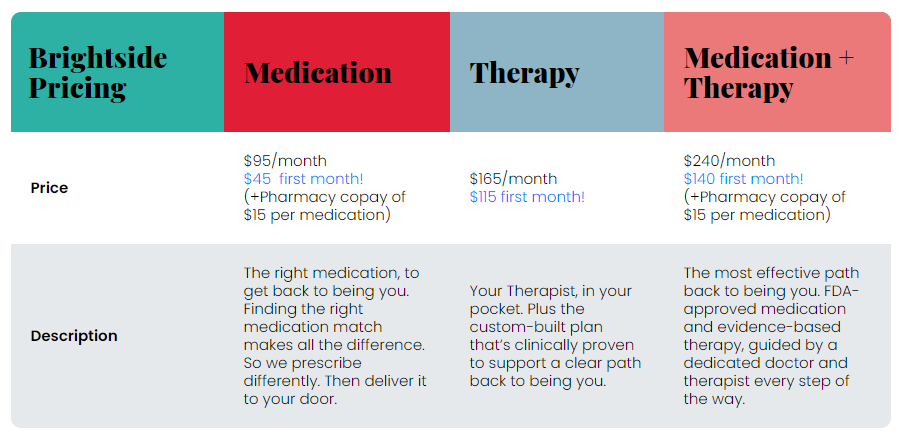 What Are the Treatment Plans and Their Prices? 
On Brightside.com, you can start feeling better choosing one of the 3 treatment plans:  
Medication
It includes: 
One 15-20 minute comprehensive video evaluation

Data-driven FDA-approved medications match

Your Path™ app — a science-backed symptom & side-effect tracker 

The personalized treatment plan developed by your psychiatric provider who specializes in anxiety & depression

Ongoing support

Monthly medication delivery right to your door
Price: 
$95/month + pharmacy copay or $15 per medication.
Evidence-Based Therapy
It includes: 
A fully-licensed counselor specializing in anxiety & depression

Unlimited daily messaging and weekday responses

1 video session/month

Interactive evidence-based skill-building lessons

Ongoing support and progress tracking
Price: 
$249/month.
Hybrid Plan (Medication + Therapy)
This comprehensive care includes all the features of the medication and therapy plans. Brightside recommends it as the most effective.
Price: 
$299/month.
What Do Clients Say About Brightside?
In general, Brightside has a 4.54 rating based on 1,064 reviews on the Reviews.io service — 88% of clients recommend it. What do they like about the platform? 
The combo of therapy and medication

Convenient scheduling with a doctor

Frequent checks and consistency of the care

Easy to monitor the progress and make adjustments

People feel improvements in their mental well-being

Easy to manage meds

Fast care compared to traditional methods

Professional and knowledgeable healthcare providers
However, clients report some negative experiences with the service. What they don't like about Brightside?
Automatic tech-driven calculations are not really precise for the comprehensive measurement 

High price for one 30-minute video therapy session

Meds shipping issues

Doctors are not very accessible — some report that it aggravates anxiety and depression symptoms

Impersonal process

Checkup questions are broad and general

Customer service is slow in responding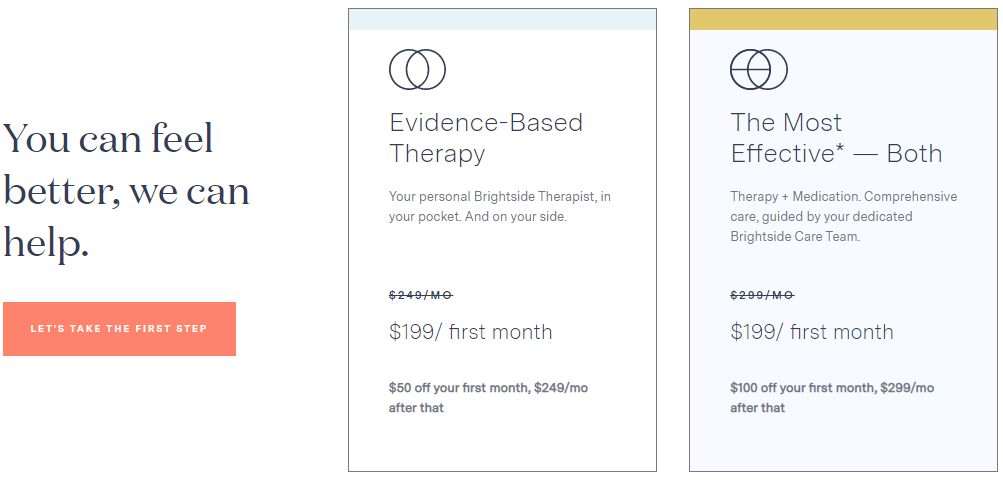 Brightside Review: The Verdict 
If you suffer from depression or anxiety, you are not alone. Depression and anxiety are 2 of the most commonly diagnosed mental health disorders in the US, and treating them is vital. After all, everyone deserves to get the best medical care and be happy.
Today, telemedicine can help people avoid the stigma and time waste and even reduce expenses on medical care. And with Brightside, getting the comprehensive help you need is easier. 
You don't have to worry about taking time off of work to see a doctor and buy medications. You may use Brightside to get matched with a psychiatric provider, therapist, or both and create a personalized treatment plan that works best for you. Healthcare professionals agree that the most positive results in anxiety and depression treatment can be achieved with the help of comprehensive care. It includes:
Medication

Therapy

And lifestyle changes
Brightside telemedicine service aims to make all 3 of these approaches easier and more accessible than ever before. So, you can try it. But first, read the reviews and consider all the positive and negative sides. If you're in emotional distress, crisis situation, or thinking about hurting yourself, please call 911 or go to the local emergency department. Help is always available.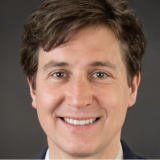 Daniel Perry
Daniel is a licensed Clinical Psychologist and cognitive behavioral therapy practitioner. Daniel helps his clients overcome a variety of mental health problems, including depression and anxiety. He also writes about mental health in his blog and helps us review popular online therapy platforms.
Read more
Best Online Therapy Services: