Pride Counseling Overview

Pride Counseling Overview
Pride Counseling is an online platform created especially to assist those that belong to the LGBT community. It is a fact that people who are a part of this community face a wide range of issues daily. They are in need of support and a good piece of advice on how to act in those situations. This innovative counseling service is always there to help those that need guidance the most.
Furthermore, Pride Counseling specializes not only in this field. It also has highly-qualified experts that have the knowledge to solve other everyday problems.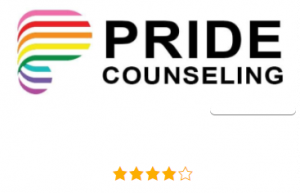 The best thing about Pride Counseling is that its members can be a hundred percent discrete. All of the personal information is kept private. When using the website, you will be signed in under a nickname.
The service accepts payments on a weekly basis. So, if you realize that you don't want to be a member of Pride Counseling anymore, you can cancel the subscription after a week or two. Moreover, if you use it for more than three months, you will become eligible for a $20 discount for the months you decide to stay with this site.
| | |
| --- | --- |
| Pros: | Cons: |
| A platform designed especially for the LGBT community; | Take longer than in other sites to register; |
| Complete privacy, no one will find out your real name; | A free trial is not available. |
| User-friendly application; | |
| It takes less than a day to get matched with a specialist; | |
| The membership can be canceled anytime. | |

What Problems Does PrideCounseling Help to Solve?
The main focus of Pride Counseling is helping those people that belong to the LGBT community. So, its experts assist people with finding solutions to the following problems:
Parenting;
Career;
Life Changes;
Anxiety;
Self-esteem;
Religion;
Abuse;
Intimacy;
Trauma;
Grief;
Motivation;
Anger;
Eating;
And more.
However, there are cases when Pride Counseling will refuse to provide its services. One such case is when the person has thought about hurting themselves or people around them. The other case is when you chose to undergo counseling not because you felt that it is the right thing to do, but because the court decided that you should do it. Also, minors are prohibited from joining this service.
How Are the Therapy Sessions Carried Out in Pride Counseling?
When it comes to messaging and communication with the counselor, usually there are no problems with that. If you have at least some experience with the popular messaging applications, such as Viber or Skype, you will see the resemblance.
At Pride Counseling, you can choose two ways of messaging – either from your phone or the laptop. For the first one to be the most comfortable, you should download their application.
Besides the therapy messaging, you can also schedule live video sessions with the professional you matched to work with. For security reasons, the video call will take place with the help of this platform. It is up to the client to decide the time and date for the live counseling sessions.
Also, there is no need to open the Pride Counseling site and log in every half an hour. All you need to do is set notifications on your phone, and when you get a new reply from the expert, you will be notified right away. If you don't want to download the app, you can also turn on email notifications.
How Much Do Pride Counseling Services Cost?
Unfortunately, this counseling website does not offer a free trial. But the good thing is that their weekly fee is commitment-free. This means that if at any time you decide that you want to quit, you can do it without losing any money. The price of the plan varies from $60 to $80 per week. And here is where the platform offers something very unique and not seen in other therapy websites. Pride Counseling provides a pretty nice discount if you use their services for over three months. The price will drop $20 less than you paid initially. A really nice offer, right?

Also, depending on the member, there are cases when financial assistance may be granted.
Why Should This Platform Be Chosen Among Others?
The main reason why this service is unique is that it is designed especially for the ones that are a part of the LGBT community. On this platform, you will not be defined by your sexual orientation. It goes to the background. Here you will be an ordinary person with some usual everyday issues that cannot be solved independently. This is why the Pride Counseling site is so great.
Pride Counseling knows how essential privacy in such cases is, which is why they take it very seriously. Since not everyone wants to share their real name, in this platform, there is no need to. You can use a randomly created nickname and be a mystery for other members.
Moreover, you are not obliged to commit to this service. The members are free to cancel their subscription whenever they like.
How to Register on PrideCounseling?
The registration process is straightforward, but a bit longer than other similar websites that offer counseling services. Here are the main steps that should be taken in order to become a part of Pride Counseling: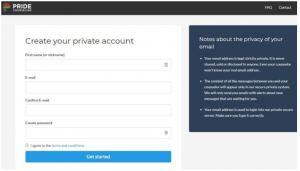 Open the main page of the website and click on Get Started. Also, from this point, you can choose either to download their application and go through the registration process there or stick to the website version.
Then you will be redirected to a page with various personal questions, such as: How do you identify? What is your orientation? How old are you? Are you in a relationship? Etc. This is the longest step of the signing up process since there are many questions to answer.
After you complete the questionnaire, your next step will be to set up the account. Provide your email address, wait for a verification code to be sent on it, and then type it into the black space on the page.
Now that you verified your email address, the last step of the signing up process is choosing what criteria the counselor you want should possess.
Right after you go through these four steps, you will be redirected to the payment page. You will have to select a preferred payment method and the plan that you wish to proceed with.
Is Pride Counseling a Safe Space?
Almost everyone who goes into therapy, whether online or in-person, doesn't like it when other people find out about it. Therefore one should choose such a platform that makes the confidentiality of their members top priority. Pride Counseling is an excellent example of such a service.
You have to provide your personal information only once, which is during the registration and for the sake of making the monthly payment. You will use a unique nickname when communicating with the specialist and other people in all other cases. And this is awesome since no one will know who you really are.
Also, the same as in any other counseling services, Pride Counseling encrypts everyone's messaging history. This means that no hacker will be able to find out what the users and the therapists are communicating about. Moreover, every professional employed at Pride Counseling is subject to laws, so you can be sure that there will be no leakage of information from this site. So, we can claim without any doubt that this platform is doing everything possible to protect the personal details of their members.
Frequently Asked Questions About This Platform Answered
If, after reading this review, you still have some questions left about Pride Counseling, please check out this section. Here we answer the most frequent questions regarding this platform:
What are the counseling sessions available at Pride Counseling?
Like any other therapy website, this one offers phone/video chat, live chat, and text messages. There are various plans to choose from, so it is up to you to decide whether you want a bundle of these session types or you are okay with only the text messaging.
Can I try Pride Counseling for free?
Unfortunately, this platform does not offer a free trial. However, there are pretty good promo codes that one can use during registration from time to time.
Is Pride Counseling worth it?
It depends on the person. If he/she genuinely wants to get better and find a suitable solution to the problem they are having, they will get the desired result. Together with a professional, any problem can be solved.
Does this counseling service have customer support?
Yes, it does. Since customer support is essential for any online therapy platform, it is no surprise that this one also has it. The best way to reach them is to go on the site's main page, log in to your page, and fill out the form online to immediately contact the customer support team. You can also write an email by yourself to one of the company's email addresses.
Can anyone get registered on Pride Counseling?
Unfortunately, no. There are two cases when people are prohibited from using this platform. The first case is when they are having thoughts about hurting yourself. And the second one is when you have been officially diagnosed with a mental illness. Also, minors are not allowed to use the platform.
Are the therapists of this platform qualified enough to offer professional advice?
Since Pride Counseling employs only seasoned and trained mental health experts, you can be sure that they have all the necessary qualifications to be able to work here. Usually, they have a master's or doctorate and the licenses required in their professional field. Also, all of them have over three years of experience proving mental health counseling.
Conclusion
Pride Counseling is a professional and effective therapy site that offers help and support to the LGBT community members. Whether you came out already or want to but have no idea how to do it, the specialists found on this platform can help you with this mission. The highly-trained therapists can help with the issues that relate directly to sexual orientation and cover a wide range of problems such as anger management, eating disorders, anxiety, etc.
The only thing that this counseling website lacks the most is a free trial. But when it comes to the payment, the offer that they have is pretty appealing. If you stay a service member for over three months, you will get a significant price drop. We hope that this mental health services provider review helps you to decide whether it is worth the money or not. To learn more about how work this platform, you can read the counselor reviews.

Best Online Therapy Services: